Kasumigaseki Today

Government buildings on the map

| | |
| --- | --- |
| | Central Government Building No.1 |



Central Government Building No.1 was planned in 1949 to be the first genuine fireproof building constructed after World War II. The intended occupant was the Ministry of Agriculture and Forestry, under more pressure than any other ministry at the time due to the postwar food crisis. Until that time, the emphasis in government buildings was on sturdiness and durability, which meant that they tended to be dark and poorly lit. In addition, the large steps at the main entrance of a typical government building broke the natural flow from the street into the building, giving the building an impression of being closed-off. Further, there was only about six to seven meters between support pillars, which meant that office spaces tended to be tight.
Central Government Building No.1 was planned to be a "simple, clear design emphasizing the improvement of working efficiency and public convenience," and would feature a steel-frame reinforced concrete structure. It would be eight stories high with a basement, shaped like the letter "E," and have a total floor area of more than 48,000 m

2

.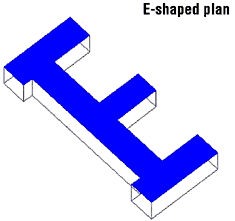 Following eight years of construction, the building was completed in 1957. As the design was meant to be rational, simple and clear, there were no particular decorative touches added. Today, there are tiles on the exterior walls, but these were added in a 1966 renovation.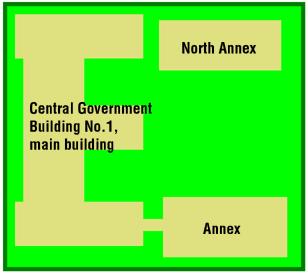 Layout of Central Government Office Building No.1

Building Data

Building name:
Central Government Building No.1
Structure:
Steel-frame reinforced concrete
Number of floors:
8 floors, 1 basement
Building area:
4,713 m

2

Total floor area:
48,009 m

2
Building name:
Central Government Building No.1 Annex
Structure:
Steel-frame reinforced concrete
Number of floors:
8 floors, 1 basement
Building area:
1,968 m

2

Total floor area:
17,479 m

2
Building name:
Central Government Building No.1 North Annex
Structure:
Steel-frame reinforced concrete
Number of floors:
8 floors, 1 basement
Building area:
1,388 m

2

Total floor area:
14,139 m

2