In order to secure safe and reliable road networks, high-standard arterial highways, urban ring roads and other disaster-resistant roads are being constructed. Measures against earthquakes, storms and heavy snows are also being implemented. Roads are an important infrastructure after a disaster has occurred.
1. Earthquake
The land area of Japan comprises only 0.25% of the world's total, but Japan is one of the foremost countries to experience earthquakes, with the probability of a large-scale earthquake (magnitude of 6.0 or more) occurring at about 23%.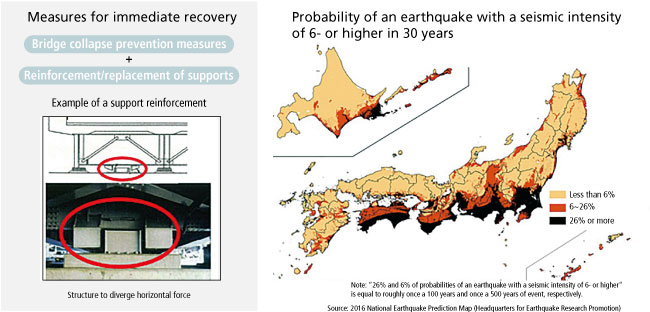 Massive earthquake and the following giant tsunami on the 11th of March 2011 caused enormous damages to the roads
(National Highway 6, hirono-machi, Fukushima Prefecture)
(Photo:Tohoku Regional Development Bureau)
2. Heavy Rain
Japan receives twice as much precipitation as the mean precipitation in the rest of the world, especially during the rainy season and typhoon seasons. During the last decade, local heavy rains have increased sharply, therefore increasing the risk of floods. The soft soil collapses easily during storms and is prone to sediment run-off, landslides and other sediment-related disasters.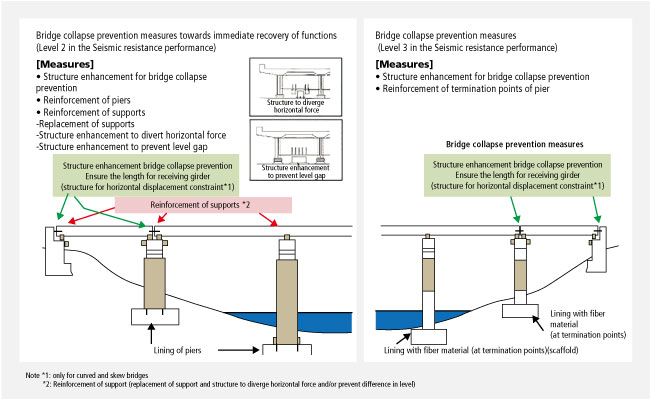 July 2009
Mudslide caused by heavy rain in Chugoku and northern Kyushu regions (National Highway 262, Hofu City, Yamaguchi Prefecture)
3. Heavy Snow
Because the Sea of Japan lies between Japan and the Asian continent, Japan receives heavy snows brought by prevailing winds from the continent in winter, especially in areas facing the Sea. About 60% of the land is snowy and cold, where about one-fifth of the total population live, causing the population density to be as high as 105/km2, which far exceeds the values in other snowy countries.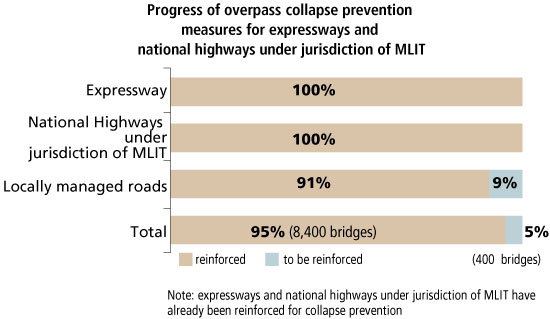 February 2014
Record-breaking heavy snow in Kanto-region: Japan Self-Defence Force clearing snow on the route 20
(Photo:Mainichi Shimbun)
4. Earthquake protection
To ensure highly reliable road networks, which allow for fast and safe emergency response activities just after an earthquake, bridges are being retrofitted with earthquake protection.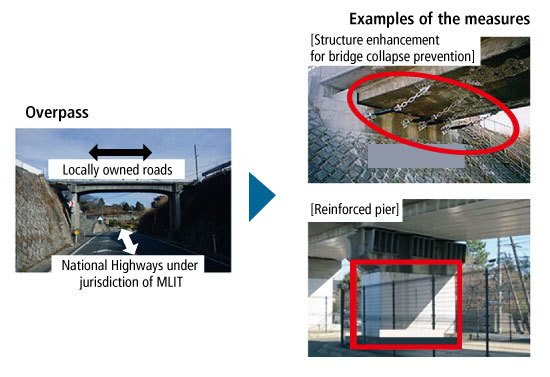 5. Disaster prevention on roadside slopes
A number of measures are implemented to protect road users from heavy rain and snow, including disaster prevention work on roadside slopes, construction of roads that bypass disaster-prone areas and other disaster prevention methods.

6. Protection of road transport in winter
Road transport in snowy cold regions in the wintertime is protected by efficient snow removal as well as proactive installation of avalanche and other snow protection facilities.