Anti-flood Control and River Improvement
River Projects
 River projects develop fundamental water control facilities of 13 important river systems including Ishikari River and Tokachi River and the improvement and development of minor rivers that suffered serious damage from floods in recent years.
 Moreover, river projects promote the preservation and restoration of precious waterside areas such as swamp areas registered with the Ramsar Convention for the purpose of preservation the natural environment with which Hokkaido is blessed.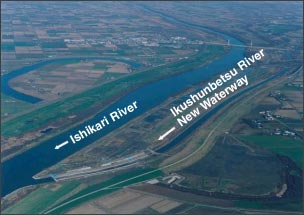 Ikushunbetsu River New Waterway Project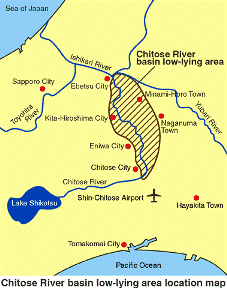 River Improvement Measures for the Chitose River basin]
● Overview of the Chitose River Basin
Approximately 360,000 people live in 4 cities and 2 towns in the Chitose River basin which is located beside a tributary of the Ishikari River in the center of Hokkaido. Because of the unique geological features of this valley - a vast area of flat lowland spreading through the mid-lower region, during flood season the water level of Ishikari River reaches a level of about 40km and continues at this level in the Chitose River and Ishikari branch for a long period - it is an area easily subject to flood damage.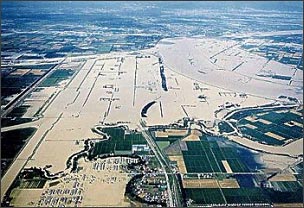 1981 Flood Damage (Ishikari River)
● An overview of flood damage
In the past, the Chitose River basin has suffered flood damage at a frequency of about once in every two years. The flood that occurred in early August 1981, caused flood damage to about 2700 houses and around 20,000 hectares of land.
Although various measures have been taken to cope with flooding in the past, until now thee have been no radical measures to cope with the peculiar features of the Chitose River basin.
● River Improvement Measures
River improvement measures for the Chitose River basin were proposed by a person of learning and experience to the Chitose River basin total river improvement planning deliberation committee and the bank (levee) strengthening (combining draining the basin) proposal was submitted to the national government and Hokkaido in March 2002.
Based on this proposal, the government, Hokkaido and local self-governing bodies created the Chitose River Basin River Improvement Measures Conference consisting of organizations with interest concerns in the basin, and deliberations dealing with improvement of the Chitose River basin began in July 2002, and measures for strengthening levees to deal with inland water (combined with drainage) and cooperation among local organizations in the area were proposed.
With this as a start, a 30-year Chitose River development plan targeting river development began in April 2005. Aiming at improving the safety of the Chitose River basin, an important part of the development plan, continuing priority projects such as dredging and digging river channels and new levee building measure is being promoted.
[Preservation of Kushiro Swamp]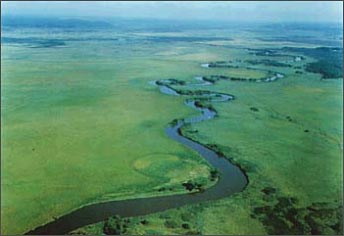 Kushiro Swamp and Kushiro River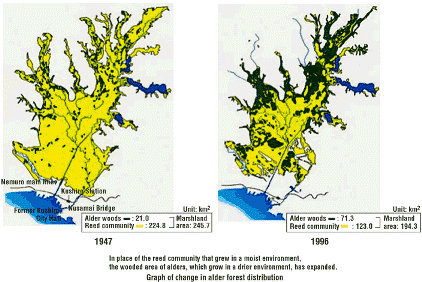 As the first registered Ramsar Convention swamp in Japan and in connection with economic activity of the basin, in recent years there has been rapid reduction of swamp are and a marked change in vegetation in the Kushiro Swamp. A pressing issue is the preservation and recovery of cherished wild life in the Kushiro Swamp, including the Japanese crane and Northern salamander.
In September 1999, the Deliberation Committee for the Preservation of the River Environment of Kushiro Swamp was established by a person of learning and experience, related government agencies, etc., which compiled a Proposal for the Preservation of the Kushiro Swamp in March 2001. Furthermore, the Nature Recovery Promotion Law went into effect in January 2003 and based on this law measures to promote the recovery of wild life in the area was taken.
With this background, in November 2003, the Kushiro Swamp Nature Preservation and Recovery Conference was established for the purpose of recommending more effective methods for nature reproduction than those undertaken up to that time. This conference combines municipal corporation, related governmental agencies, and specialists, specially invited local residents, NPO and NGO. In addition to strengthening cooperation among the parties concerned, this organization promotes projects for various subjects agreed upon by participating members.
In March 2005, a reproduction design for the entire Kushiro Swamp area, which can be called a constitution, was decided upon to determine the direction of the swamp preservation and recovery project. From this point on, the Enforcement Plan based on the master plan is to be promoted aggressively through the cooperation of the parties concerned.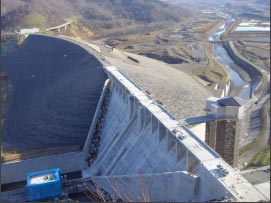 Chubetsu Dam, the main body of which is under construction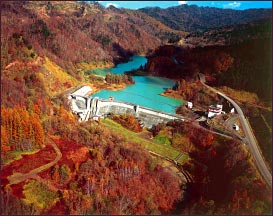 Bibai Dam, a gateless system of improved dam construction for efficient management.
Main Dam Project
 This dam project is being conducted for a safe, abundant and attractive improvement of the community and fulfills a various roles:
| | |
| --- | --- |
| (1) | Some of the flood water will be stored in the dam and release of this water will be regulated to mitigate down-stream flood damage. |
| (2) | In times when there is a shortage of river water, water is emitted from the dam to preserve the down-stream river environment. |
| (3) | Water from the dam supplies city water and water for industrial use and irrigation. |
| (4) | Water power generators use water flowing from the dam Bibai Dam, a gateless system of improved dam construction for efficient management. |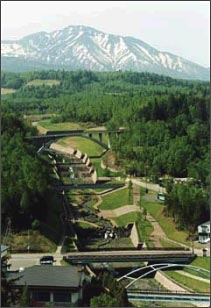 Mt. Tokachi, a volcano erosion control project

Steep slope collapse measure project (Hakodate City)
Erosion control projects and measures to prevent landslides on steep slopes
There are 18 active volcanoes in Hokkaido. At tourist resorts in volcanic areas, disasters caused by mud slides and large-quantity sediment flow eruptions occur frequently.
On the other hand, urbanization is advancing around the foot of mountains near cities, inviting an increase in danger of sediment disasters, landslides and cliff slides.
For this reason, in areas where there are high emergencies, preventing sediment flow emergencies is a serious matter to consider, advancing erosion control projects to prevent landslides is urgent to promote a rich, natural environment and improve the quality of life.
Moreover, this project advances development of disaster shelter facilities in disaster areas where they can be available to persons in need of help.
Steep slope landslide measure projects are undertaken concentrating on areas where there is concentration of urgent high dangerous areas.
Green slope development is promoted to raises the degree of safety by preserving and using existing tree and vegetation on slopes to re-enforce and maintain a good natural environment and scenery.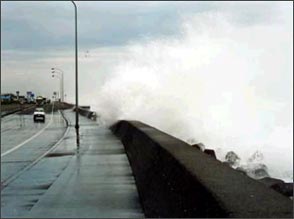 Overtopping Waves Attacking National Highway No. 36 (Shiraoi Bypass)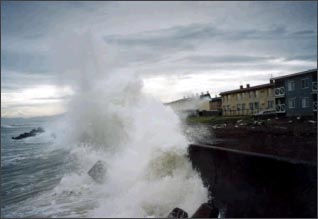 Backed by an Adjoining Seawall and Lined with Residences.
Hokkaido being surrounded on all four sides by the sea, the seashore is intimately connected with the lives of Hokkaido people, as living space, a place for distribution and a production activity, and a place for recreation.
For this reason, while coping with the damage and the remarkable seashore erosion left by tsunamis, high tides, raging waves, in order to lives comfortably with these natural phenomena and preserve and create a congenial seashore environment, developing seashore preservation projects needs to be promoted preponderantly and efficiently.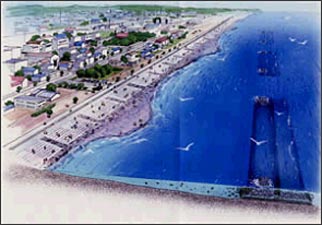 The image of the field-protection combining man-made reefs and loose slope shore protection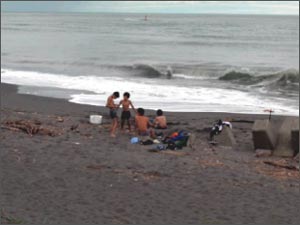 Sand recovered by field-protection
● Direct control seashore preservation facilities development project of Iburi seashore
Although measures against erosion using the line-protection method focusing on erect shore protection and wave suppressing had been implemented along the Iburi seashore, because 100m-scale sand erosion advanced quickly and then disappeared after the 1965s, erect shore protection disappeared, wave suppressing subsided and damage to residences by overtopping waves, began to recur.
For this reason, protecting unstable slopes along the shore to reduce the amount of wave reflection and launching by making man-made reefs to weaken the power of raging waves in the offing, and in places where there is serious erosion, as needed making artificial beaches, since 1988 measures to prevent seashore erosion have been implemented with a field-protection system combining every preservation facility needed.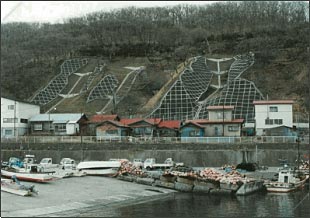 Soil saving enterprise for recovering collapsed hillside (Shizunai-cho)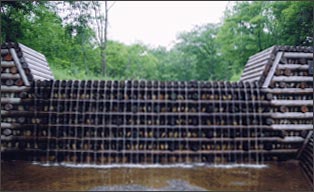 Soil saving dam utilizing thinning lumber (Toyokoro Town)
Soil Saving Project
Since the geology of a volcanic eruption is widely distributed over the mountains of Hokkaido, such as Hokkaido Mt. Komagatake, Mt. Tokachi, and Mt. Usu, there are about 24,000 high mountains areas that are subject-to-disaster areas were there is danger of forestland collapse under severe regional local rains, typhoons, and earthquakes.
While deliberately undertaking the soil-saving projects for restoration development to prevent mountains disaster, mountains stripped of vegetation, etc., in recent years, conditions of mountain disaster and forest damage occur frequently because of typhoons and such. To ensure safe and secure community improvement that is strongly resistant to disaster, maintenance of the forest reserves is promoted.
Moreover, to secure good, stable water resources, in stream source regions, dams or the upstream of small-scale water intake service facilities, development of a desolated forest areas and development of a water and soil preservation facilities are promoted.
Furthermore, in order to build a bountiful environment, while advancing forest development as a place of relaxation for local residents, forest develop which considers the scenery of the area and the habitation environment of wildlife is carried out.