What is the National Cycle Route?
While riding a bicycle is fun to do in itself, taking a cycling tour of
The National Cycle Route scheme is a scheme in which the national government designates routes that meet certain standards from both tangible and intangible perspectives, and market them in Japan and overseas as world-class cycling routes that showcase Japan. The objective of the scheme is to revitalize regional areas by strongly promoting cycling tourism. This will be done by creating new tourism value in Japan from excellent tourism resources, bringing together various approaches such as riding environments, rest and accommodation functions, and dissemination of information.
the countryside is an excellent way to enjoy the charms of the route. Today, all around Japan, the public and private sectors are collaborating to use cycling to promote regional tourism.
National Cycle Route
Network Map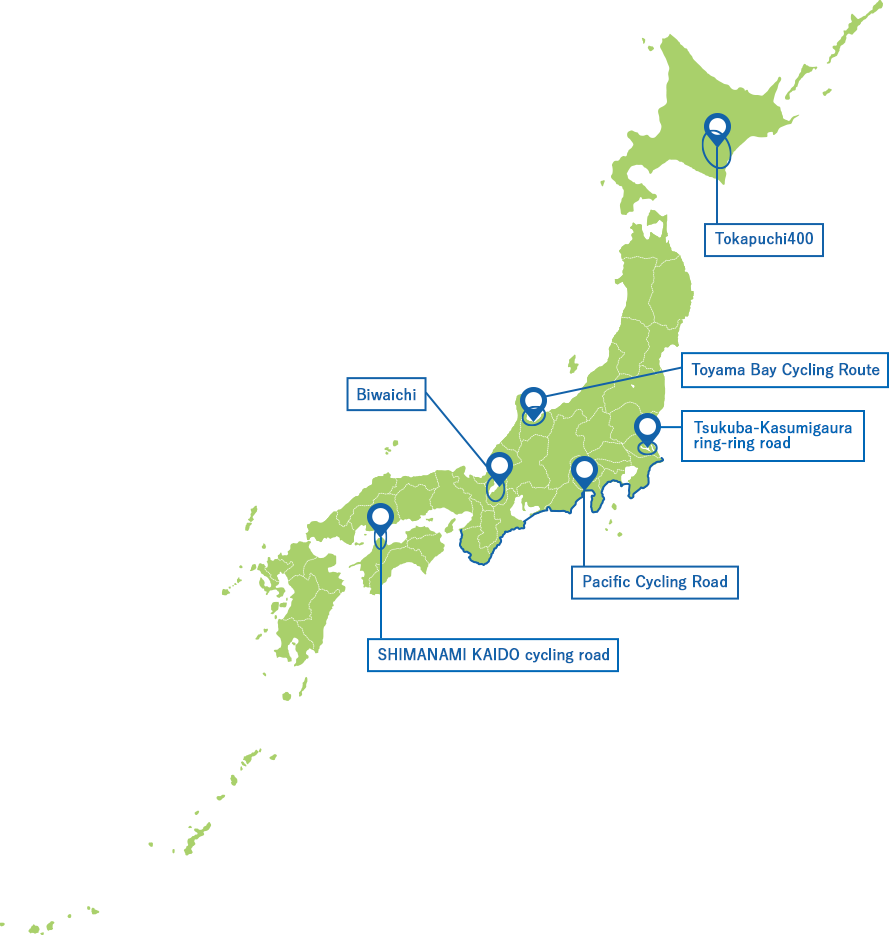 National Cycle Route
Network Map
National cycle route logo
The logo for the national cycle route shows a bicycle represented by the Chinese character "和"(wa), (Meaning peace and harmony, while also referencing Japan and Japanese culture. The phonetics, "wa" also references the phonetics of the Chinese character "輪" found in "車輪" (wheel).) The concept behind the logo is peaceful and comfortable cycling and the connection established between the people encountered by cyclists visiting this area and the things they experience.

Copyrights for the national cycle route logo belong to the Government of Japan.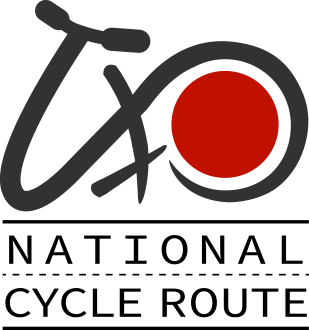 Requirements for Designation as a National Cycle Route
The following requirements have been established for designation as a National Cycle Route from the perspectives of route establishment, riding environment, hosting environment, information dissemination, and initiative frameworks.
Establishment of Route

Safe and attractive route that is able to contribute to the promotion of cycling tourism

Riding Environment

Environment in which anyone can ride safely and comfortably
Environment in which anyone can ride with peace of mind, without getting lost

Hosting Environment

"Gateways" for cyclists with bike amenities are accessible via other modes of transport.
Rest facilities that cyclists can use at any time
Alternative transport services that allow cyclists to move while carrying their bicycles paralleled with the route
Accommodation facilities for cyclists to stay overnight with peace of mind
Facilities and programs to help cyclists to enjoy the charms of the region to the fullest and contribute to regional promotion
Repair facilities, etc. that can assist cyclists with bicycle trouble
Systems and facilities for support in an emergency

Information Dissemination

Facilities, systems, and the like that offer information that can be easily obtained at any time

Initiative Frameworks

The necessary initiative frameworks have been established for maintaining the standard of the cycling environment through public-private partnerships
〇 The assessment items and criteria in the requirements for designation include mandatory assessment criteria that must be met by National Cycling Routes.
〇 Other recommended assessment criteria have also been established that it is preferred that cycling routes meet to encourage initiatives aimed at further improvement of the cycling environment.
〇 It is a basic requirement that all mandatory assessment criteria be met to obtain designation.
Examples of Mandatory Criteria
・ The route must be at least 100 km long (excluding cases in which the route is on an island).
・ Bicycle riding spaces must be established with the use of nationally standardized shared lane markings installed on the left edge of the vehicle lane, or other types of bikeways, etc.
・ Road markings and signs for route navigation must be established.
・ A "gateway" to the cycle route must be established at a railway station, etc. This will include bicycle rental facilities, changing rooms, etc.
・ Cycle stations must be established approximately every 20 km along the route.
・ Accommodation facilities for cyclists must be available close to the route approximately every 60 km.
・ Information must be disseminated via websites and other sources in at least Japanese and English.
Examples of Recommended Criteria
・ The route should avoid sections with continuous steep inclines.
・ There should be train, bus or ferry services that allow cyclists to board with bicycles available.
・ Tour guiding, etc. should be conducted (in at least Japanese and English)
〇 Additional initiatives for the further improvement of the cycling environment may be set as criteria for designation.