Main content starts here.
Akita Port
(area:TOHOKU/AKITA)



Akita Port is located in the Akita City, which is where the Akita Prefectural Office resides and is on the northeast part of the Japan Sea. It is perfect for access to anywhere in Akita. The mooring berth has a depth of 10 m and a length of 370 m. At the port you will find the Selion Port Tower where you can enjoy the view from some 100 m up, and the Selion Lista, which is a lush intimate covered green tract of land that can be enjoyed year round regardless of the weather. There are also a ferry terminal and Selion bus stop near the berth, and city buses run from here to Akita Station (about 25 minutes). From Akita Station, you can use the Akita Shinkansen (bullet train), local railway lines, and highway buses to go anywhere in Akita. Feel free to enjoy the Kanto lantern festival in Akita City, the Tanabata Edoro festival in Yuzawa, the Masuda Uchikura buildings in Yokote, and the samurai residences of Kakunodate.
Port Area Tourist Information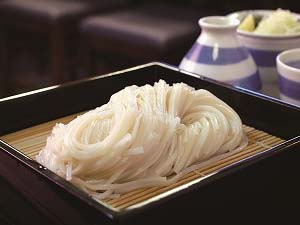 Inaniwaudon
Inaniwa-udon noodles are light, smooth, and like silk on the tongue. Along with Shikoku's "Sanuki-udon" and Nagoya's "Ki...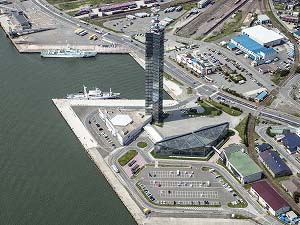 Port Tower SELION
Covered with glass, the Port Tower is a characteristic landmark in the Akita Port and its term of endearment is "Seli...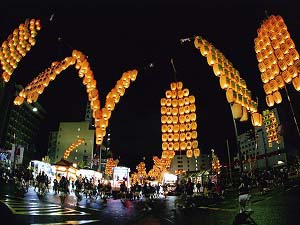 Akita Kanto Festival
Acknowledged as one of the national intangible cultural assets in Japan, the Kanto Festival in Akita City is one of the ...
Port Information
This is linked to a map in an external website. You can view port area information through its zoom feature.
| | | |
| --- | --- | --- |
| Location | Tsuchizakiminatonishi,Akita-shi,Akita,011-0945 | |
| Nearest major airport | Akita airport(Car 90 minute ) | |
| Nearest major train station | JR Higashinihon ohu Main Line Akita Station ( Bus 25 minute ) | |
| Nearest major bus station | Akita Chuo Kotsu SERION Line SERION ( Foot 10 minute ) | |
| Berth | Nakashima Futou No.2 & No.3 quaywall | |
| Port management | Akita prefecture, Department of Public Works,Harbor and Airport Division | |
| TEL | 018-860-2541 | |
| E-MAIL | kowan-kuko@pref.akita.lg.jp | |
| Related links | Bi-no-Kuni Akita (Link to an external website) | |