1.Evaluation
Concept of Project Evaluation
Current cost-benefit analysis based on the 3 benefits does not cover all effects created by road development. This means we need to appropriately assess a wide variety of effects other than the 3 benefits.
Other cost-benefit analysis methods used in other countries include monetary-value-based B/C analysis and qualitative/quantitative B/C analysis in an integral manner.
The former method has issues of double counting and accuracy, while the latter has issue of who should make a decision (i.e. governance of evaluation) and needs to involve representatives who are democratically-elected by the general public.
More discussion is necessary while trying out different methods in variety of projects in the future.
Work Flow in Road Project Evaluations
A project is rigorously evaluated at each phase.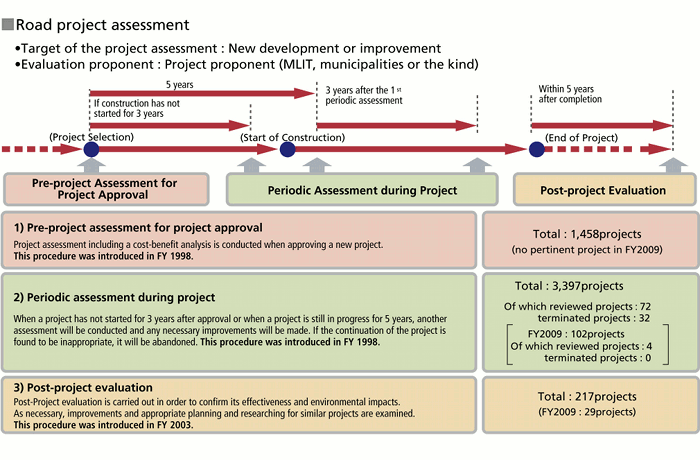 Cost-Benefit Analysis
1) Cost-Benefit (B/C Ratio) Calculation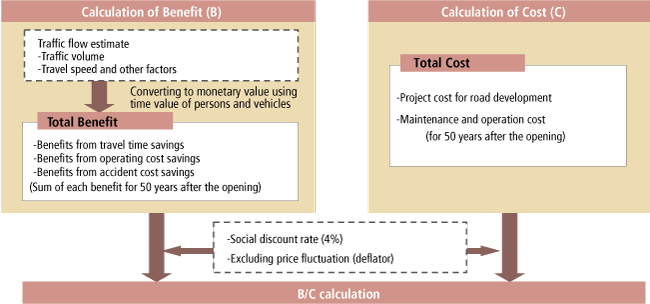 2) Benefits from Travel Time Savings

3) Benefits from Operating Cost Savings

4) Benefits from Accident Cost Savings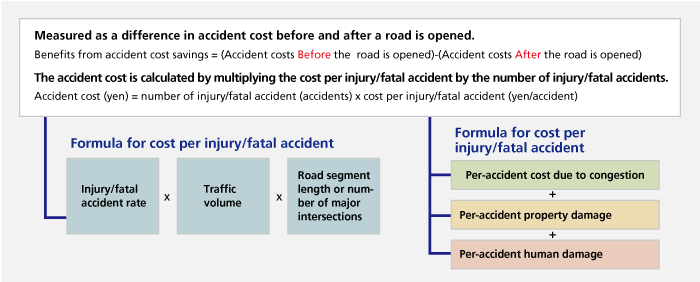 2."Stock Effects" of Roads
What are "Stock Effects" of Roads?
Economic ripple effects by development of roads include "flow" effects" and "stock effects".
workforce, creation of production opportunity and employment, and economic revitalization through enhanced production activities stimulated by public investment. Stock effects: long-term effects that grow economic for a long period through streamlined intercommunication and logistics, stimulated private investment, boosted tourism, and increased population and employment through development and opening of new roads.
Here are some examples of stock effects by road development.
Case 1: "Stock Effects" of Metropolitan Intercity Expressway
A Metropolitan Intercity Expressway is a 300km-long arterial high-standard highway located 40 to 60km from the heart of Tokyo. It is also the outer ring road of the Three Ring Roads in the greater Tokyo area. The Expressway plays a various roles in smoothing road traffic, improving environment, connecting cities, supporting local activities, and providing alternative routes in the event of disaster.
Benefit 1: Reduction of Through-traffic in Tokyo Area
-Reduction of through-traffic from 90% to 30% in the heart of Tokyo
-Reduction of traffic by 2% and reduction of congestions by 20% on the Central Circular Route
-New expressway toll rates are expected to reduce the remaining through traffic in the heart of Tokyo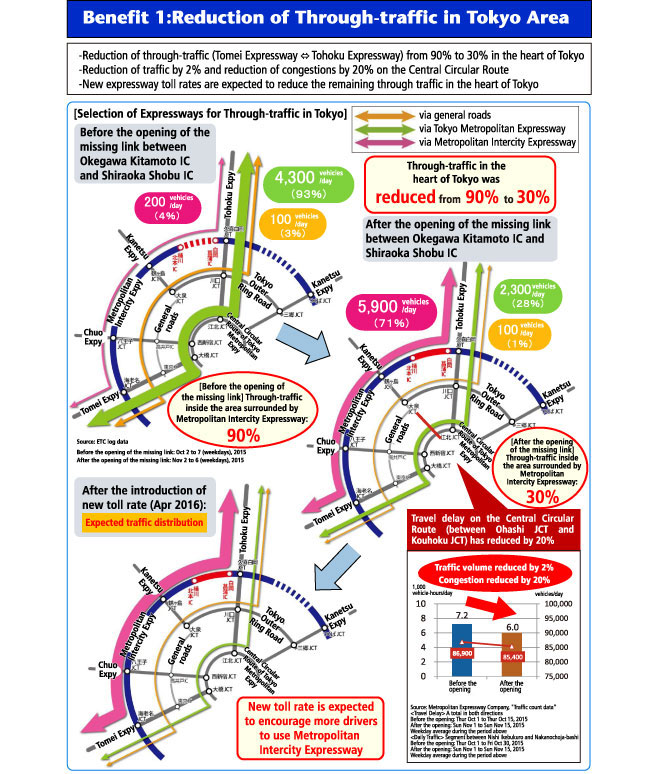 Benefit 2. Improved Access to Tourist Destinations in Kanto Region
-The opening of a section of Metropolitan Intercity Expressway in Saitama boosts tourism in Kanto Region
-Hotels in Kinugawa Hotspring witness 20% increase of guests from Kanagawa
-Metropolitan Intercity Expressway is expected to bring more foreign visitors when it's connected.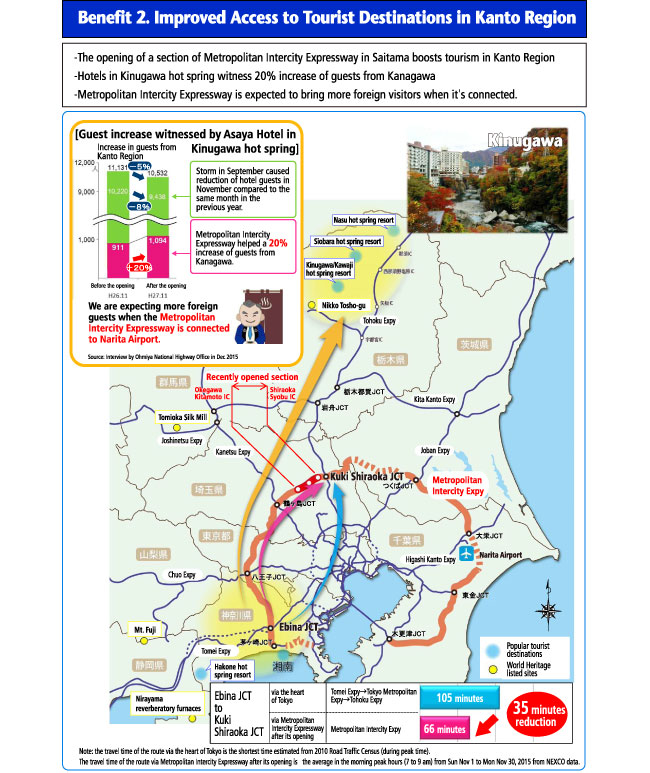 Benefit 3: More Business Opportunities and Productivity for Companies along the Expressway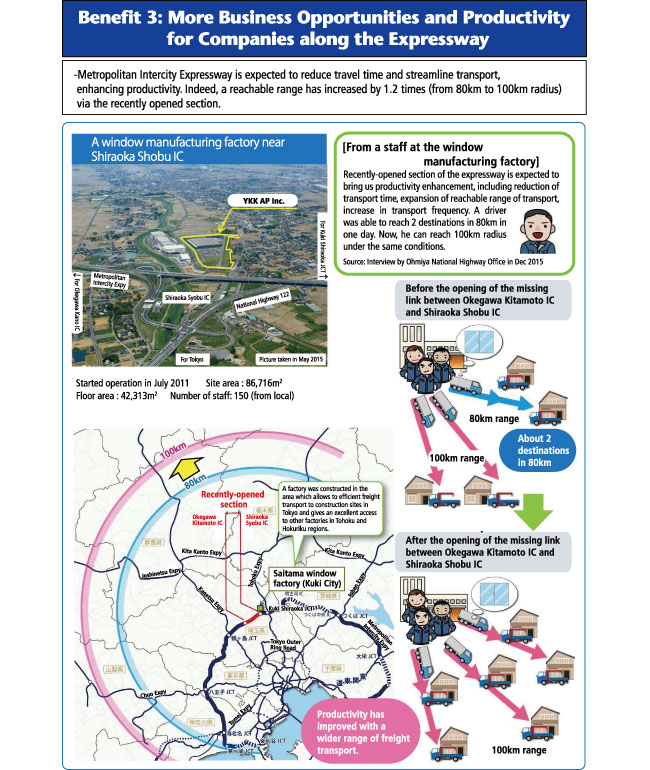 Case 2: "Stock Effects" of Kyoto Longitudinal Expressway
Kyoto Longitudinal Expressway is a 100km-long arterial high-standard highway that connects north and south parts of Kyoto Prefecture and is expected to enhance relationship between the two parts and contribute to development of Kyoto Prefecture.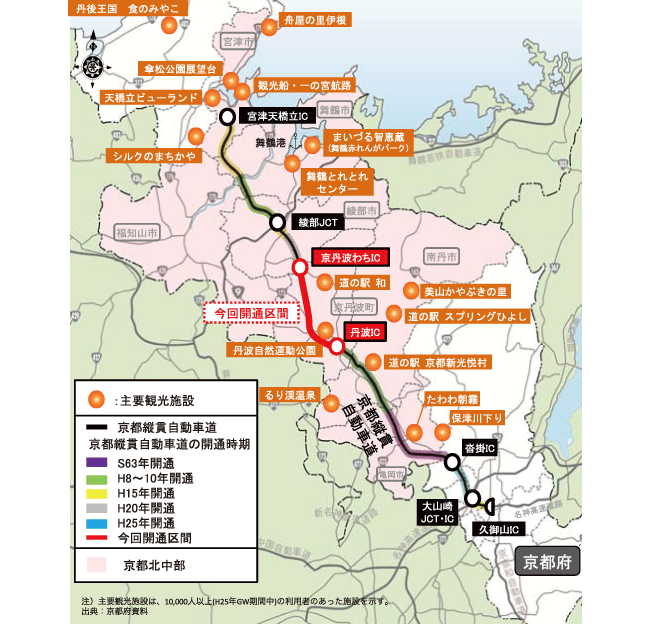 1) Visitors and their spending have increased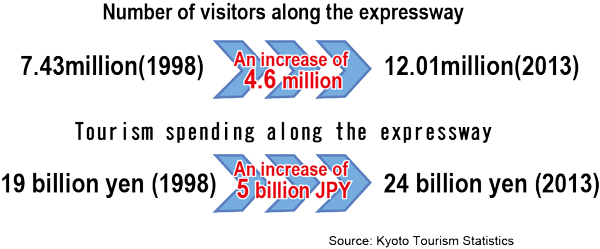 2) The opening of the expressway created a tourist route (300km) in the north Kinki region
3)About 100 companies moved near the expressway

4) Product shipment tripled, cargo volume handled by Maizuru Port doubled