2.5 Cruise Promotion Policy
Japan has enjoyed an increase in the numbers of cruise ship calls to its ports and cruise passengers visiting the country until recent years. This has attracted many foreign visitors to Japan and contributed to the revitalization of the region. On the other hand, the number of cruise ship calls to Japan has significantly decreased since 2020 due to the COVID-19 pandemic.
Thus, the government has been promoting the creation of an environment in which cruises can be enjoyed comfortably, through measures such as infection prevention at passenger terminals and the promotion of safe, secure, high-quality, and diverse sightseeing in ports of call. In addition, efforts have been made to promote both hardware and software, such as upgrading cruise passenger reception functions and forming an international cruise hub through public-private partnerships.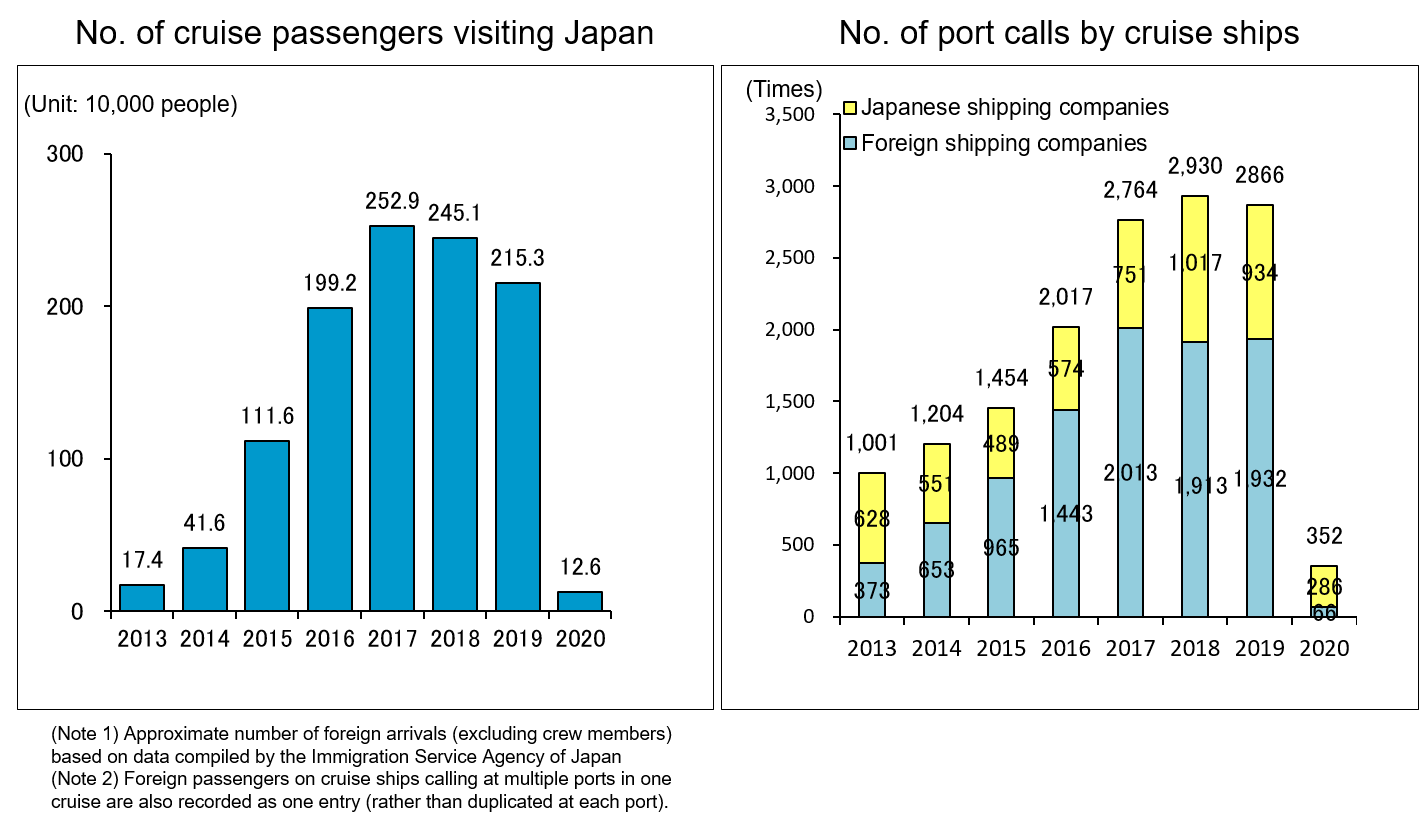 2.5.1 Creating a Safe and Enjoyable Cruise Environment
After hearing opinions from experts in infectious diseases, crisis management, etc., the Ministry of Land, Infrastructure, Transport and Tourism conducted a study to ensure the safety and security of cruise ship users and those concerned at ports where cruise ships call, and published an interim summary in September 2020. At the same time, the Japan Oceangoing Passenger Ship Association and the Ports and Harbours Association of Japan established guidelines for infectious disease control on cruise ships and passenger terminals for domestic cruises, and domestic cruises resumed operations in October 2020.
A Liaison Conference on Waterfront and Disaster Prevention Measures was established at 129 ports nationwide with participation from prefectural health and hygiene departments and bureaus, etc. Also, a system was established to immediately share information and cooperate in dealing with unforeseen situations.
In addition, the government will promote the creation of an environment where cruises can be enjoyed comfortably by providing both hardware and software support, such as infection prevention measures at passenger terminals, etc. and promoting mutual understanding between cruise ship operators and local communities.

2.5.2 Improvement of cruise passenger reception functions
To ensure convenience and safety of cruise passengers at ports and to promote smooth receiving of cruise passengers, efforts will be made to promote the installation of mobile boarding bridges, covered walkways, etc., by local governments or private operators.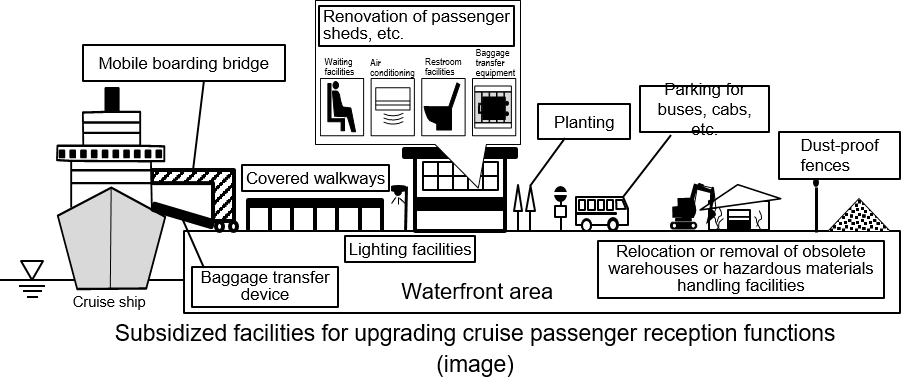 2.5.3 Creating international cruise hubs through public-private partnerships
In order to respond quickly and efficiently to the demand for cruise ship calls, in accordance with the Ports and Harbors Act revised in July 2017, the public sector will develop quays exclusively for cruise ships at nine ports (Yokohama Port, Shimizu Port, Shimonoseki Port, Sasebo Port, Yatsushiro Port, Kagoshima Port, Naha Port, Motobu Port and Taira Port) designated as Hubs for International Passenger Ships. Also, cruise ship operators wishing to have priority use of the said quay will develop the passenger terminal building etc. necessary to receive cruise ships, thereby promoting the formation of an international cruise hub through cooperation between the public and private sectors.
Thus, the public and private sectors will work together to promote the formation of an international cruise hub.