1.ITS Policy
In Japan, ITS (Intelligent Transport Systems) are steadily expanding with the popularization of ETC (Electronic Toll Collection) systems and VICS (Vehicle Information and Communications System). They have been effective in allowing for better traffic flow by providing real-time information, eliminating congestion at toll gates and mitigating environmental impacts by offering differential toll discounts. ITS have entered the second stage and are now being promoted to solve social issues.
The installation of systems for collecting and providing information, which is the basis of ITS, is being promoted and other systems are being developed so drivers can enjoy a diverse set of services via a single on-board ITS unit.
ETC (Electronic Toll Collection)
Since ETC went into service in March 2001, the number of ETC users has been rapidly increasing with the popularization of on-board ETC units. At the end of March 2011, ten years after its introduction, there were approximately 34.24 million vehicles equipped with ETC and ETC users now account for 86.2% of all vehicles on expressways in Japan. By utilizing this system, congestion at toll gates has been eliminated. Since drivers can use ETC to pass through toll gates without having to stop, the processing capabilities of toll gates have improved, effectively eliminating congestion that would otherwise occur. ETC communication technology is also used by private operators for non-stop passage through parking gates, ferry boarding and other similar uses.
Changes in number of vehicles equipped with ETC on-board unit and percentage of ETC use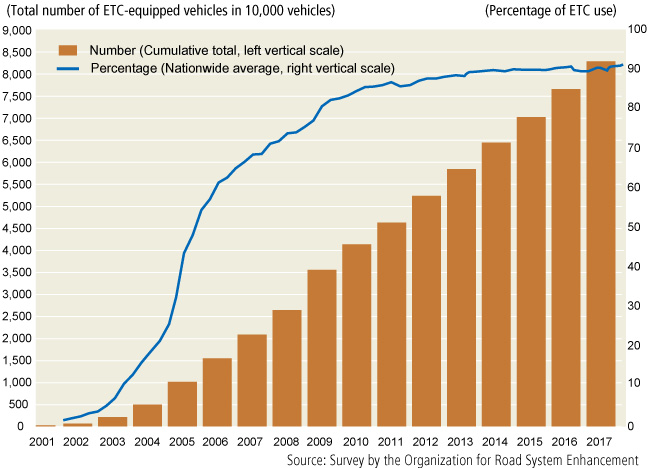 Source: Survey by the Organization for Road System Enhancement
Congestion reduction effect of spreading ETC use on Metropolitan Expressway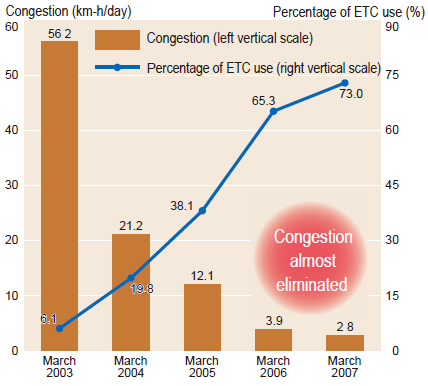 Percentage of ETC use and congestion show March weekday averages at main-lane toll booths.
Source: Metropolitan Expressway data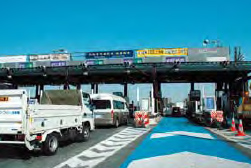 ETC for non-stop toll collection has been installed at almost all expressway toll gates in Japan, contributing toward mitigating toll-booth congestion.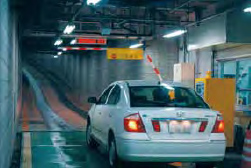 Automated parking lot payment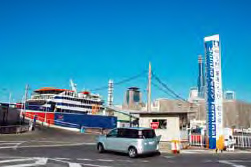 Simplified ferry boarding procedure
VICS (Vehicle Information and Communication System)
VICS transmits real-time road traffic data, such as congestion and traffic restrictions, to on-board vehicle navigation units and displays data in the form of text, simple graphics and maps. The service started in Japan in April 1996, earlier than anywhere else in the world. VICS delivers information using three types of media: FM multiplex broadcasting, a radio wave beacon and an infrared beacon. At the end of March 2011, over 30.13 million vehicles were equipped with VICS compatible on-board units. VICS's best route guidance capability adjusts traffic flow and improves fuel efficiency, which in turn reduces CO2 emissions and environmental impacts.
Number of VICS-compatible on-board units in use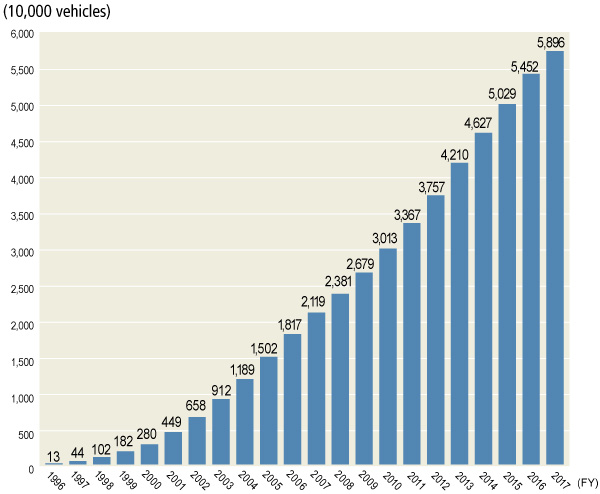 Prepared by MLIT based on VICS's data
Mechanism of VICS information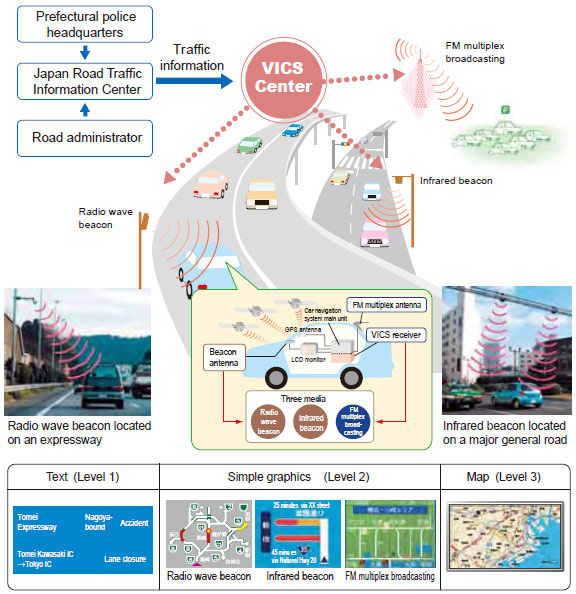 2.What is "ETC2.0"
"Smartway" is a next-generation road traffic system incorporating ITS technologies, which provides information to connect people, vehicles, and roads, with the primary aim of ensuring traffic safety, reducing traffic congestion, and protecting the environment. To make this concept a reality, industry, government, and academia have been working together in research, development, and demonstration testing.
In 2011, we started the world's first Vehicle-to-Infrastructure (V2I) communication service, which enables high-speed high-volume two-way communication between automobiles' onboard units and ITS spots, was installed along expressways across the country.
Other new services are scheduled to start in the future.
System Architecture
This system uses 5.8 GHz DSRC (Dedicated Short Range Communication), an international standard adopted by ISO (International Organization for Standardization) and ITU (International Telecommunication Union) that enables high-speed, high-volume, two-way communication. DSRC will make various services available by using roadside equipment, "ITS spots", and "compatible in-vehicle car navigation systems."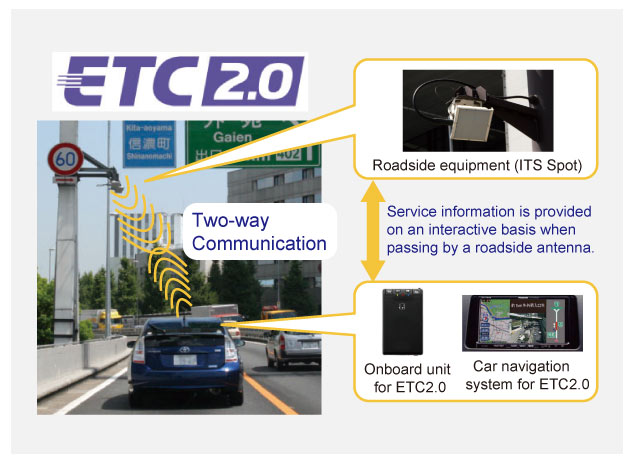 Expanding ITS spot services throughout Japan
As of August 2011, ITS spot services are available in about 1,600 locations positioned on expressways throughout Japan. On inter-city expressways, an ITS spot is installed about every 10 to 15 km, including 90 locations immedi ately in front of junctions, while on urban expressways there is a spot installed about every 4 km.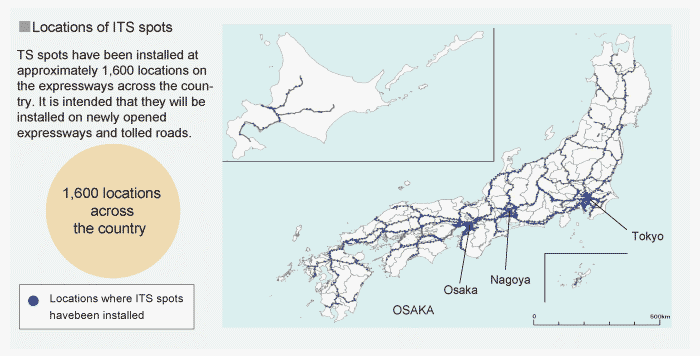 ETC2.0 Service
Comparison of the scope of information that is provided by existing FM-VICS and ITS spots (Urban areas)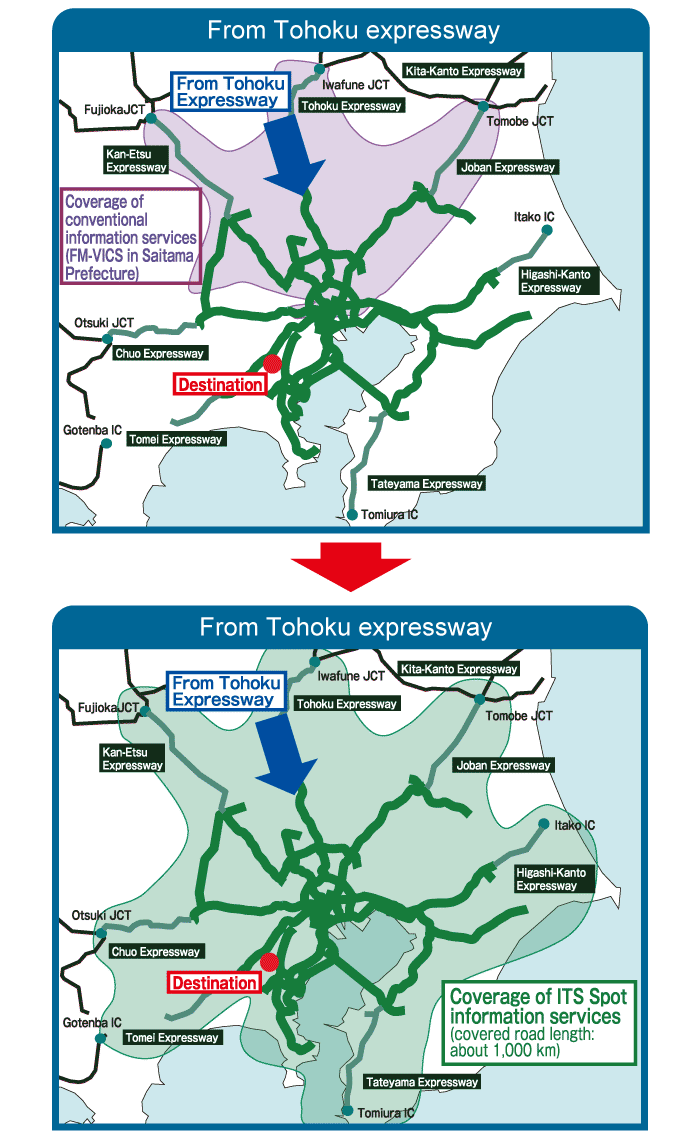 Since October 2014, a new service called "ETC2.0" has been provided. ETC2.0 provides advanced driver assistance on expressways using the communication between ITS spots and onboard units, in addition to the existing automatic toll payment feature.
ETC2.0 provides the following assistance services:
(1) Detouring assist : provides precise information about wide-area traffic congestion on a real-time basis with actual pictures of the road ahead of the driver.
(2) Assistance in the event of disaster: provides safety precautions, such as identification of obstacles on roads, a slow-running automobile at the end of congestion and pictures of the weather condition ahead of the driver.
(3) Safe driving assist: provides useful information for drivers in the event of road closures.

Enhanced services for ITS spots
In the future, new ETC2.0 services are scheduled to begin. Drivers will soon be given preferential treatment if they take a detour around congested routes. In the future we are also going to support commer cial fleet control through ETC2.0. Furthermore, private services such as automatic payment systems at private parking lots and drive-through booths are under consideration.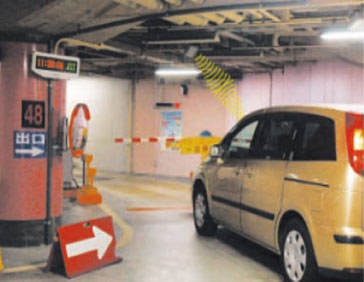 Automatic payment system at a parking lot.
3.Traffic Management through ITS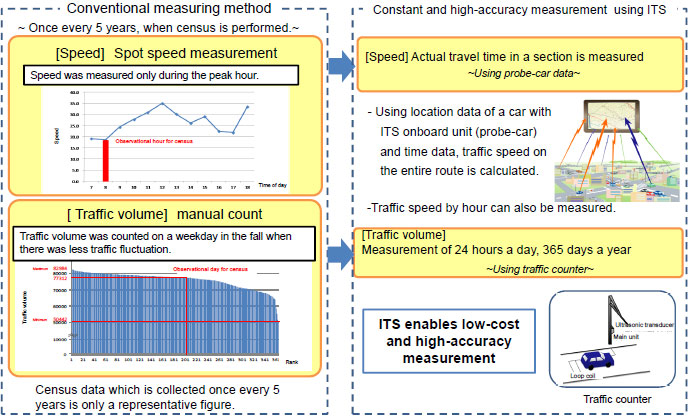 Efficient Operation of the Road Network
Traffic is controlled 24 hours a day to insure efficient operation and to provide safe, smooth and comfortable traffic flow. Diverse kinds of road information are collected, accumulated, analyzed and provided to road users.
Collecting information
Vehicle detectors, TV cameras, meteorological observation apparatuses and other sensors are installed along roads to quickly collect correct information on traffic congestion, stationary vehicles, and accidents. During disaster events, patrol cars and vehicles equipped with satellite communication systems rush to the site and collect information. Today, efficient methods are used to identify congestion-prone points, such as the use of GPS equipped probe cars, VICS data and other ITS technologies, in cooperation with police departments, instead of the conventional method of conducting field surveys at major intersections.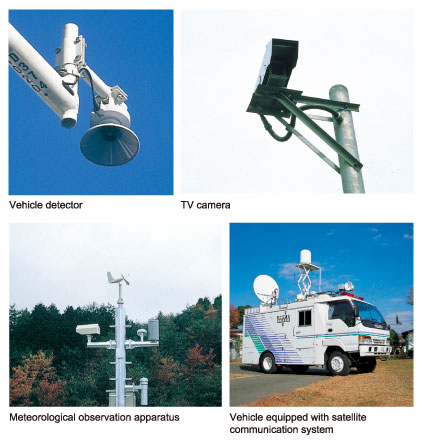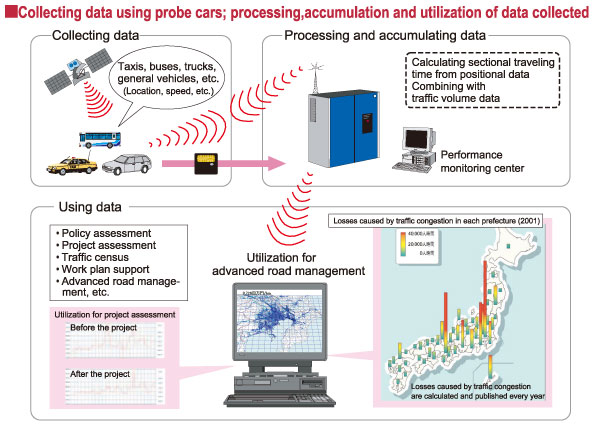 4.Example of congestion mitigation using ITS
Analyzing the cause of traffic congestion from ITS data and compare it to the traffic management policy (National highway 8, in Joetsu, Niigata)