4. Age of Optimal Maintenance and Management for Maximum Utilization of Existing Roads
By the 21st century, the total length of expressways had reached more than 10,000km and the public opinion was that Japan now had sufficient road networks, especially in urban areas. At the same time, Japan entered an age of declining birthrates and an aging population (the national population has been declining since it peaked in 2008).
In addition to these social changes, ever-increasing social security costs and the fragile national financial condition brought about the wide-spread belief that public investments should be economized. As discussed in the previous section, this led to the abolition of the tax system with earmarks for roads and the reorganization and privatization of JH. While road development is slowing down, utilization of existing road networks and improvement of asset management is becoming the focus of current programs.
The first task of asset management is to map out strategies for the aging road infrastructure, which was largely developed during the high-growth period of the Japanese economy (from the late 1950s to the 1960s).
The second task is to continually provide road transport services and to support the lives and economies of the people who live in a country that is prone to natural disasters such as earthquakes and typhoons.
The third task is to provide road services that are safe, acces sible, and environmentally friendly by utilizing evolving ITS technologies and by improving the quality of roads.
Change in real GDP per capita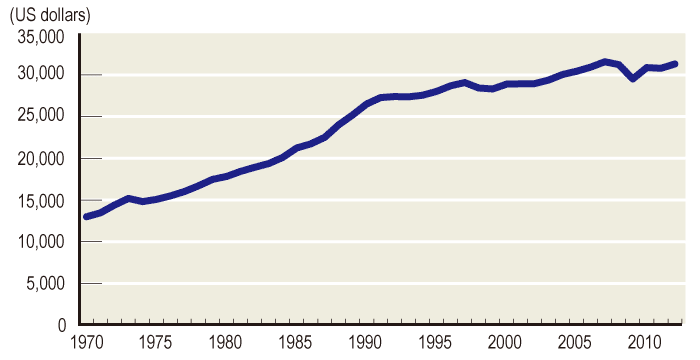 Change in total length of expressways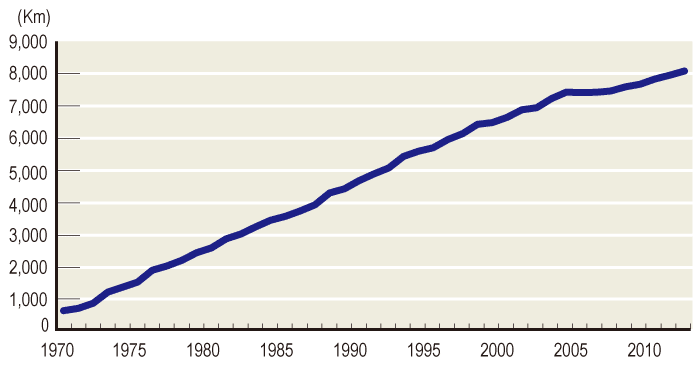 Change in vehicle registrations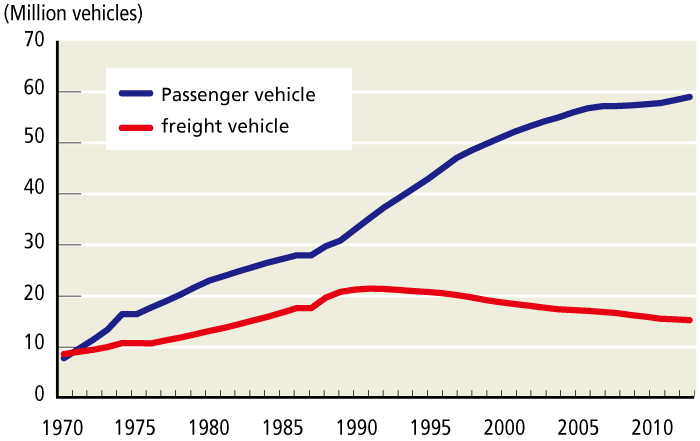 1) Strategies for Aging Road Infrastructure
The majority of roads and bridges were constructed in the high-growth period of the Japanese economy and will be 50 years old in the next 10 years. To maintain the safety of this aging infrastructure, periodic investigation and database management, as well as systematic repair work, are required. It is a new technical challenge to efficiently investi gate and repair 5.2 million bridges and 10,000 tunnels. At the same time, this is also a significant challenge in terms of the financial and human resources that are needed to meet road demands.
2) Preparing for Natural Disasters
The Great East Japan Earthquake in March 2011 forced the reevaluation of the importance of road networks in the face of large-scale natural disasters. 20% of world-wide earthquakes with a magnitude of 6 or higher, occur in Japan.
As an earthquake-prone country, disaster prevention measures, including improvement of bridges' quake resistance, have been deemed necessary after the repeated experience with these disasters. In addition, it is necessary to enhance road networks to guarantee alternative routes in the event of road closures after a large-scale disaster and in order to add disaster prevention functions to existing roadside service facilities. As climate change is increasingly occurring on a global scale, Japan has been experiencing more frequent heavy rains and snows. Landslides on slopes and snowbound traffic are always significant challenges in a country with precipitous terrain. Japanese road administra tion has been implementing countermeasures that include: constructing slope protection, establishing a snow removal system, installing road monitoring systems, and improving operations.
3) Improvement of Road Service Provision using Intelligent Transport System (ITS)
Ring roads are being developed in the Tokyo Metropolitan Area, where traffic congestion is a serious problem. Once complete, ring roads are expected to provide more route options and smoother traffic flow.
Since they were introduced in the 1990s, ITS technologies have provided various services, including car navigation systems and Electronic Toll Collection (ETC). Even now, the technologies are evolving to meet the demands of road infrastructure and the automobile sectors. Newly introduced automobiles with crash-avoidance systems offer the poten tial for fully automatic driving systems sometime in the near future. In the road infrastructure sector, dynamic traffic guidance, warning messaging, and vehicular controlling technologies are being studied as part of road-to-vehicle and/or vehicle-to-vehicle communication systems.
The advancement of technology is going to integrate road infrastructure and automobiles into a new synthetic transport system and will provide a breakthrough solution for traffic congestion, traffic accidents, and environmental protection issues, all of which have been major challenges since the modernization of the road system began.