Countermeasures for Aging Roads
Helping Local Governments Tackle with Aging Structures
Background/data
Issues surrounding aging structures.
There are an increasing number of municipal bridges that are restricted for traffic (there were 2,876 bridges in 2017).30% of all towns and 60% of all villages in the country have no civil engineering technicians for bridge maintenance in their workforce.

○To ensure the inspected structures are well repaired, the MLIT provides municipalities with financial assistance for rehabilitation/replacement, increased budget allocation to local governments*5 and subsidies.
○By directly evaluating structures that require urgent and high-level technical capability, the MLIT repairs these structures on behalf of the local government*6.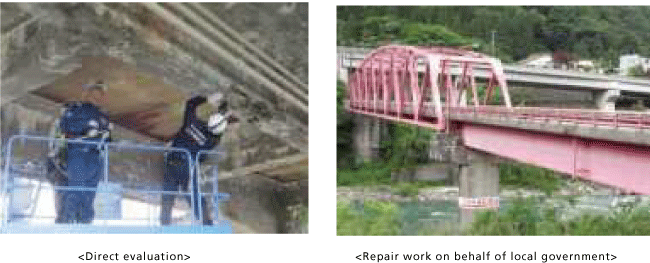 ○Through the road maintenance program, an area-wide lump sum ordering process is introduced for inspection work to make up for the shortage of workforce and engineering skills.
○Increase the quality of inspection by providing training sessions for local staff*7.

*5: Bond for public facility management (refer to P70) *6: Direct evaluation (FY2014-2017): 10 locations, repair work on behalf of municipality (FY2015-2018): 9 locations *7: a total of 3,700 municipal government staff members participated in 155 sessions held in FY2014 to 2017.

Life Extension and Streamlining by Introducing Innovation
Background/data
IInfrastructure is steadily aging while the workforce is shrinking.
-Maintenance activities need to be more productive and streamlined by developing/introducing innovative technologies.
○For further streamlining of periodic inspection, the Government started evaluating load-carrying capacities with a new technology and is widely inviting new approaches for the evaluation of structure's soundness.