Countermeasures for Aging Roads
History activities for aging road
In the wake of Sanyo Shinkansen Tunnel Lining Concrete Collapse in 1999, the National Government established an inspection guideline along with various activities by road administrators. After Sasago Tunnel Ceiling Collapse in December 2012, the government amended the Road Act in 2013, prompting the 2014 Ministerial Ordinance which obligates road administrators to conduct close visual inspection once every 5 years.

Current activities for aging roads
Of the 730,000 road bridges across Japan, 520,000 bridges, which account for 70% of all bridges, are situated on municipal roads. 10 years later, 48% of all bridges are expected to be 50 years or older. Deterioration is evident, especially in an infrastructure that was constructed in the short term, and other infrastructure that is in severe environments, such as under-water. Municipalities have increased traffic restrictions on their bridges in recent years.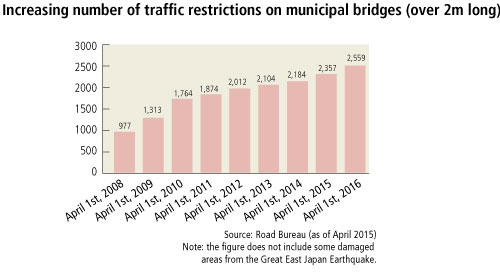 Standards for statutory inspection
1. The ministerial ordinance and notice prescribes once-a-five-year close visual inspection and defines 4 categories of the soundness results (applied to tunnel, bridge and other structures). 2. Periodic Inspection Standard is established to provide specific procedures (by structure (e.g. tunnel, bridge)) 3. The MLIT has developed a periodic inspection guideline containing bridge deformation to be looked for and case examples to technically assist municipalities to implement their inspections (by structure (e.g. tunnel, bridge)).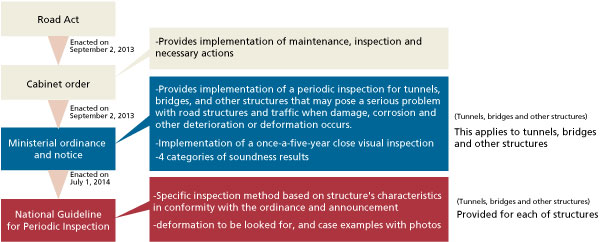 Maintenance by Municipalities (Technician and Inspection Method)
30% of all towns and 60% of all villages in the country have no civil engineering technicians for bridge maintenance in their workforce. Also, most (80%) of municipalities use a bridge inspection guideline that instructs only distant visual inspection, which is a problematic.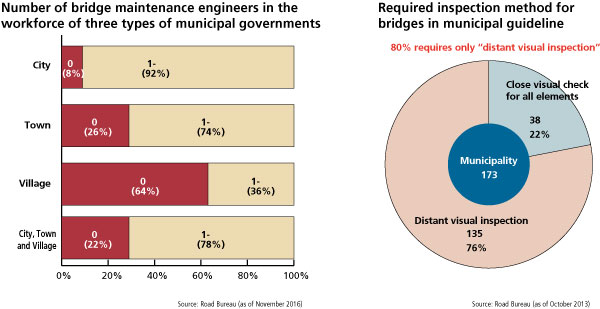 Full-scale Maintenance of Aging Roads
Ensuring the Facilitation of the Maintenance Cycle
Background/data -Current conditions of road infrastructure. Since FY2014, the percentage of the cumulative number of inspected bridges reached 80% (as of the end of FY2017) t the end of FY2018, 5 years will have passed since periodic inspection started (the first round will be completed).

indicates cumulative number since FY2014 Of all municipal bridges that were inspected by FY2016 with a result of Category III or IV (i.e. improvement is required by the next inspection), 12% have been repaired or under repair.

○ In addition to bridges and tunnels, we implement preventive maintenance for road pavement in a systematic manner to save life cycle costs. ○The second round of inspection will start in FY2019 after review of the National Guideline for Periodic Inspection to improve inspection efficiency by introducing innovations and narrow the target areas depending on damage and structural characteristics.
Mid-term Outlook of Maintenance/Replacement Expenditure
Background/data -The outlook was produced after a certain level of progress was achieved in the periodic inspection. -Securing the repair budget is essential prior to moving on preventive maintenance, avoiding further deterioration, and avoiding any increase in maintenance/replacement expenditure. ○Based on the deterioration from the inspection results and effects of preventive maintenance, we have produced an outlook on maintenance/replacement expenditure. ○Predicted maintenance/replacement expenditures, including local governments, increased from 1.9 trillion JPY in FY2018*4 to 2.6 - 2.7 trillion JPY in FY2038, a 1.5 times increase. ○Furthermore, in the coming 30 years, the expenditure is expected to increase to 71.6 - 76.1 trillion JPY.
Road Maintenance Panel
Through the Road Maintenance Panels, the National Government provides various technical supports to complement a shortage of human/technology resources of municipal governments. Road Maintenance Panels were launched in all prefectures in 2014 to facilitate cooperation with interested parties, to grasp and share the current issues, and to assist with promoting effective measures for aging roads. Through "Road Maintenance Panel" the following activities are supported: -Introduce an efficient procurement including area-wide lump sum ordering and multi-year contract for maintenance projects. -Establish technical assistance system such as sending a "road maintenance specialist team", comprised of national government officials, to evaluate bridges of social importance or with complicated structure and record the results. This includes financial support from the national government. -Utilize a new system that allows national government to immediately carry out technically-difficult maintenance work on behalf of a municipality. -Combine or remove unnecessary bridges according to changing demands. For important bridges (e.g. bridges on expressways and other arterial road network and overpass of bullet train and other arterial railway network) or bridges in need of immediate repair, national government and expressway companies should carry out periodical inspections and repairs on behalf of municipalities. -Provide a series of extensive training courses for municipal government officials and private business employees for better maintenance framework.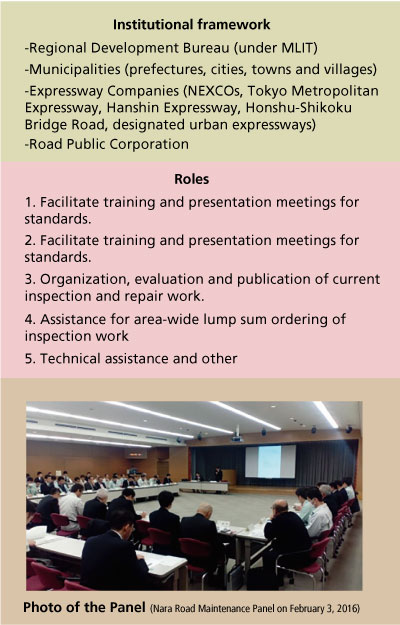 Updating Tokyo Metropolitan Expressways
Background/data
Expressways are now 50 years old and need to be swiftly and systematically updated despite severe financial limitations. < Length by Age (as of the end of Mar 2018) [example of the Tokyo Metropolitan Expressway] >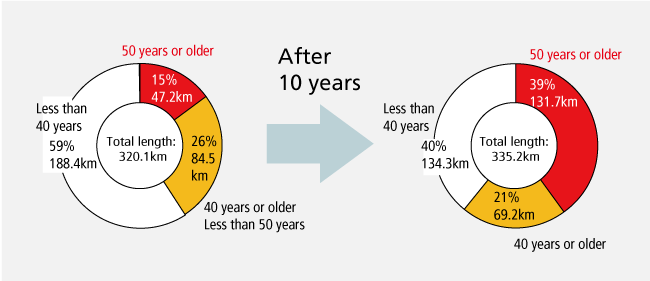 Updating Expressways
While introducing cost-efficient approaches and innovations, expressways are updated in a systematic manner.
< Example of updating: Landfill portion in the east Shinagawa pier on TME >

-The entire pier structure is planned for replacement with a structure at a certain elevation from the sea level. -A detour will be developed to accommodate the existing traffic. (to be switched in Sept. 2017) -Inbound section is planned for construction in FY2019.
Use of Underground Space for the Tokyo Metropolitan Expressway in line with Urban Redevelopmen
○The National Government, the Tokyo Prefecture, Chuo-ku, and the Tokyo Metropolitan Expressway are working together on the updating project for not only tackling aging structures but also for increasing functions that are in line with projects in the private sector.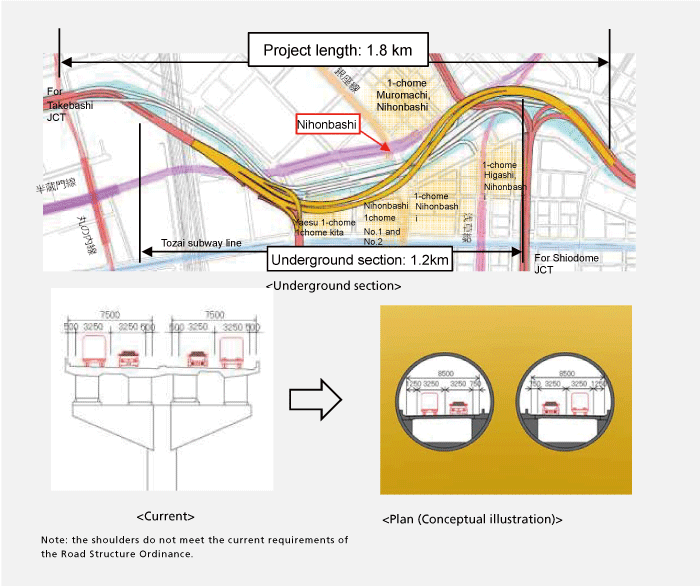 Project expenditure of 320 billion JPY will be shared among the TME, private entities and municipalities.