History, background and intention of the change
Tokyo Metropolitan Expressway is an urban expressway designed to mitigate traffic congestion in the urban area, provide better connection to other major metropolitan areas, reduce congestion on the existing national highways (general roads) and reduce traffic accidents. The expressway, which was gradually developed in the 1960s, now connects not only to the surrounding areas but also to Tomei Expressway (bound for Osaka), Tohoku Expressway and other major national expressways to form a wider road network.
Toll rates for expressways in the Greater Tokyo Area are all different by expressway and operator, which does not help smart use of road network in the area.
The following challenges were identified before the change this time around.
・ Toll rates and vehicle categories were all different depending on the expressway and segment.
・ Toll rate via Metropolitan Intercity Expressway was lower than that via other expressway in the center of Tokyo, which was unfair.
・ A terminal charge was imposed every time drivers switch to other expressway whose toll rate is higher or operator is different.
Details of the change
1. Re-organizing and integrating toll rates (expressways within the Metropolitan Intercity Expressway)
-All different toll rates will become consistent with the current expressway toll rate for major city area.
-Vehicle categories will become consistent between operators (Tokyo Metropolitan Expressway's category will increase from 2 to 5 vehicle types)
2. Consistent toll rates that depend only on origin and destination
-Toll rates will be based on the shortest route (in the case that the route via Metropolitan Intercity Expressway is more expensive than the route via other expressways in the central Tokyo)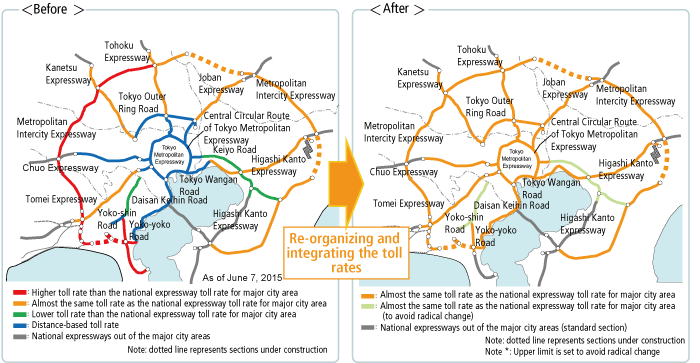 Points of new toll rate system which was introduced on April 1 2016
1. The previously more expensive toll rates for Metropolitan Intercity Expressway are lowered (same toll rate for the same origin/destination).
2. ETC2.0 equipped vehicles are subject to further discount
3. Tolls for Tokyo Outer Ring Road will be discounted if a driver use it to the central Tokyo
4. Drivers going through the central Tokyo will be charged depending on the traveled distance

Effects
The following effects have been experienced
1)Through-traffic was shifted to outer ring roads, reducing congestion on Tokyo Metropolitan Expressway
-10% reduction of through-traffic in the central Tokyo, with 50% through-traffic reduction between Tomei and Tohoku Expressways
-1% reduction of traffic on Tokyo Metropolitan Expressway
-The opening of Central Circular Route Shinagawa Line reduced travel loss by 40% last March. The toll rate change at this time further reduced travel delay by 10%.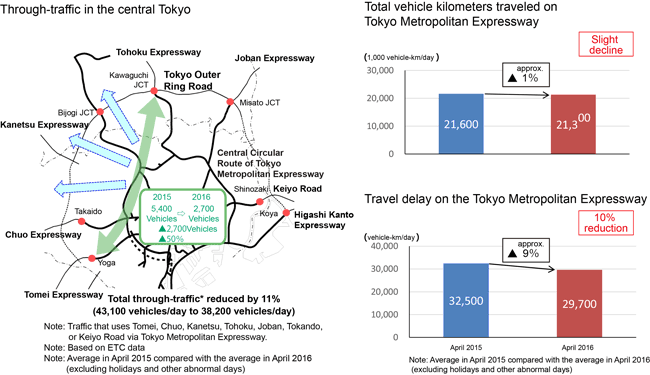 2)Smoother traffic on general roads due to increase of short-distance use of Tokyo Metropolitan Expressway
-Short-distance users of the Tokyo Metropolitan Expressway increased by 1 to 4% due to the toll discount and reduced congestion with less through-traffic.
-Traffic on the Tokyo Metropolitan Expressway (Shibuya Line) at Minato-ku Aoyama increased by 2% while the parallel national highway No. 246 decreased by 7%.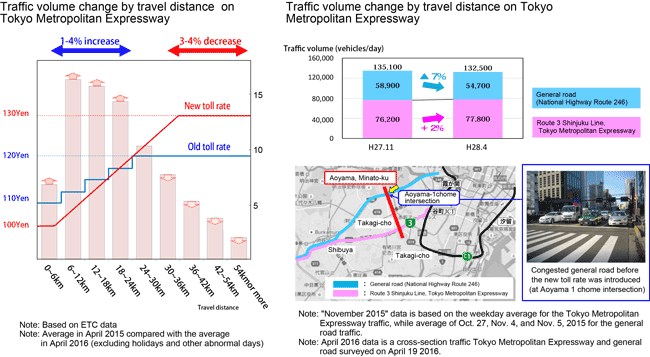 3)Network development and toll discount promote use of Metropolitan Intercity Expressway
-Traffic on Metropolitan Intercity Expressway increased by 30% (additional 5~8% increase after it was connected to Tohoku Expressway)
-A significant increase of distribution centers that are newly constructed in the areas along Metropolitan Intercity Expressway by 4.6 times (or by 2.7 times in the Greater Tokyo Area) .
More details of toll rates are provided at the site below (Japanese text only)
Official site about new toll rates for expressways in the Greater Tokyo Area