Main content starts here.
Yokohama Port
(area:KANTO/KANAGAWA)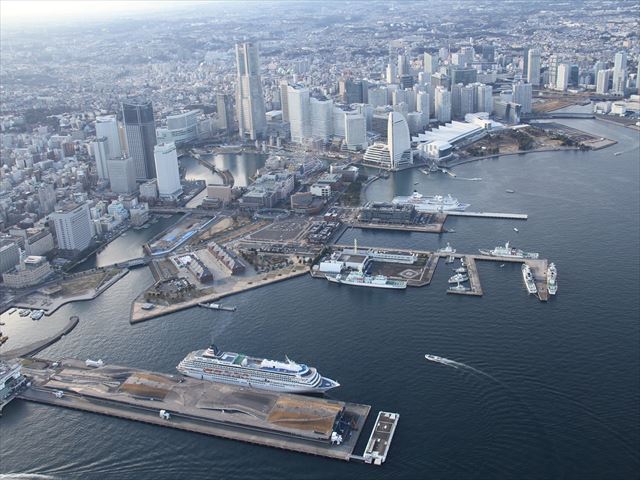 The Yokohama Port has served as a gateway to the greater Tokyo area and has welcomed countless cruise ships since its opening in 1859 as Japan's first modern international trading port. Lying as many as 11 nautical miles closer to the Pacific than the Tokyo Port, it allows cruise ships to save on pilot charges and fuel, and passengers can spend a greater amount of time for sightseeing.
As the port is conveniently set in the heart of Yokohama, shopping and tourist destinations are a walk away. Since the Yokohama Port is situated at the center of Tokyo Bay, public transportations offer easy access to Tokyo and farther on to Mt. Fuji and Kamakura, which are ideal day trip destinations.
The state-of-the-art international passenger terminal was reopened in 2002 can accommodate four 30,000-ton-class or two 70,000-ton-class cruise ships at once.
Port Area Tourist Information

Port Information
This is linked to a map in an external website. You can view port area information through its zoom feature.
Terminal
Osanbashi-Pier
Location
1-1-4 Kaigandori, Naka-ku, Yokohama-shi, Kanagawa,231-0002
Nearest major airport
Tokyo International Airport(HANEDA) ( Bus 30 minute )
Nearest major train station
Nihon-odori Station, Minatomirai line ( Foot 7 minute )
Nearest major bus station
Osanbashi, Yokohama Municipal Bus ( Foot 3 minute )
Berth
Osanbashi-Pier A berth
Osanbashi-Pier B berth
Osanbashi-Pier C berth
Osanbashi-Pier D berth
Terminal
Daikoku-Pier
Location
17Daikokufuto,Tsurumi-ku,Yokohama-shi,Kanagawa,230-0054
Nearest major airport
Tokyo International Airport(HANEDA)(Car25minute)
Nearest major train station
Motomachi.Chuukagai Station,Minatomirai line(Car15minute)
Nearest major bus station
Daikokuzeikanseimonmae,Yokohama Municipal Bus(foot 2 minute)
Berth
Daikoku-Pier P3 berth
Daikoku-Pier P4 berth
Daikoku-Pier T3 berth
Daikoku-Pier T4 berth
Terminal
Sinko-Pier
Location
2-14-1sinko,Naka-ku,Yokohama-shi,Kanagawa,231-0001
Nearest major airport
Tokyo International Airport(HANEDA)(Car30minute)
Nearest major train station
Bashamichi Station,Minatomirai line(Foot10minute)
Nearest major bus station
Hammerhead,Yokohama Municipal Bus(foot 1 minute)
Berth
9Berth
Service
Terminal
Tourist information
Foreign exchange
Port management
Cruise Project Promotion Division, Port and Harbor Bureau, City of Yokohama
TEL
045-671-7272
E-MAIL
kw-cruise@city.yokohama.jp
Related links
Port of Yokohama (Link to an external website)
YOKOHAMA VISITOR`S GUIDE