Main content starts here.
Shingu Port
(area:KINKI/WAKAYAMA)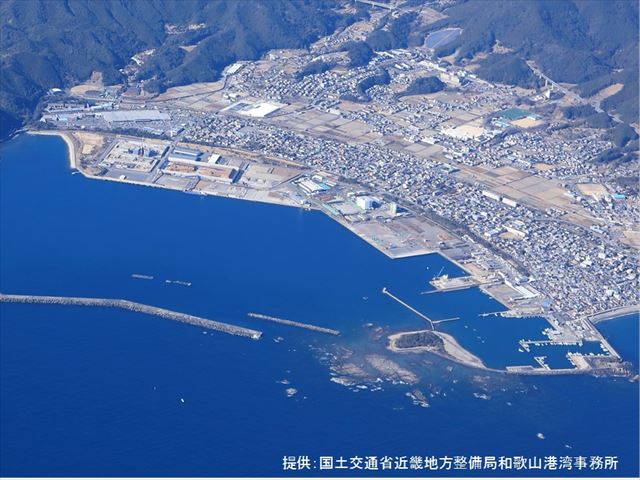 The Shingu Port is located in the southeast corner of Wakayama Prefecture, right on the border with Mie Prefecture facing Kumanonada Sea.
The port facilities underwent an initial renovation in the late 60's and early 70's in order to allow importation of timber. In recent years vessels became larger and the volume of freight increased to a point where the water depth at the quays was not sufficient to deal with these cargo vessels. For this reason, and also in order for the port to be able to withstand a major earthquake, the port had undergone a second round of renovations. On November 23, 2006, 11-meter quays opened, completing the second round of quay renovations.
The Shingu Port, as the only external trading port in the southern part of the prefecture, serves not only the immediate Shingu area, but also plays an important role as a trade hub for Mie Prefecture and Nara Prefecture.
Furthermore, Shingu acts as a gateway for visitors to Kumano, and the port is seeing an increase in the number of large cruise liners wishing to call in at Shingu since Kumano was registered as a UNESCO World Heritage site.
Port Area Tourist Information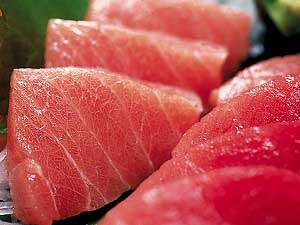 Tuna Fish
Maguro tuna caught in the ocean off the southern part of the prefecture are still alive when the catch is brought to lan...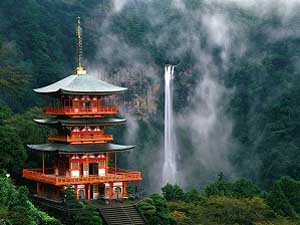 Kumano Sanzan (Kumano Three Grand shrines)
The southern part of the Kii Peninsula, known since ancient times as Kumano, was famous as a hiding place for gods and s...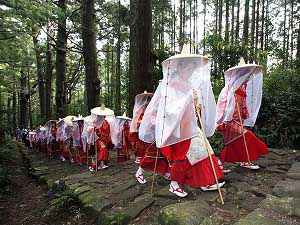 Kumano Pilgrimage Again
A parade of 90 people in traditional costume re-enact the ancient pilgrims by walking on the pilgrimage routes to Kumano...
Port Information
This is linked to a map in an external website. You can view port area information through its zoom feature.