Main content starts here.
Matsuyama Port
(area:SHIKOKU/EHIME)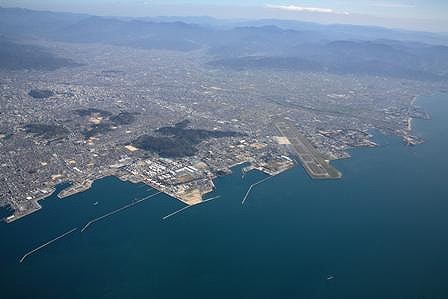 A strategic point on sea routes of the Seto Inland Sea from olden times, the Matsuyama Port is located in central Ehime in northwestern Shikoku and has developed as a major port for trade and industry on the Seto Inland Sea connecting Kyushu and Honshu and serving as a gateway to the prefectural capital of Matsuyama City, which has the largest population in Shikoku.
The port has a port area of 2,200 hectares and a port zone of 404 hectares. The oldest districts, the Naiko and Takahama districts, have ferries that connect Matsuyama to Honshu, Kyushu and various islands. In the Gaiko district, a container terminal is being constructed at the new Gaiko Wharf, and a seaside industrial zone is being developed with the aim of creating a trade hub for Shikoku and the Setouchi Economic Zone. Each district is being used for various purposes.
Port Area Tourist Information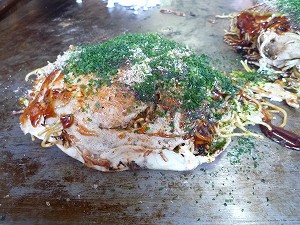 Mitsuhamayaki
This familiar everyday fare from the Mitsu area of Matsuyama City traces its roots back to "issen-yoshoku" (a dish similar...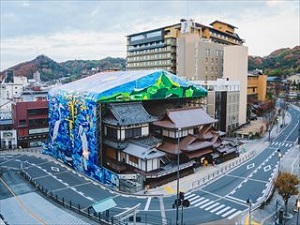 Dogo onsen
The Dogo onsen are the oldest in Japan. Many people from all over the country have visited since the main building was built in...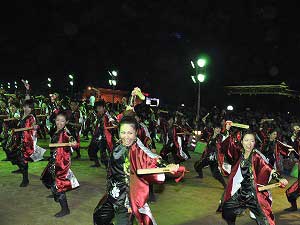 Matsuyama Festival
The Matsuyama Festival was started in 1966 and is one of the four big festivals of Shikoku. The castle town comes alive in midsummer...
Port Information
This is linked to a map in an external website. You can view port area information through its zoom feature.
| | | |
| --- | --- | --- |
| Location | Kaigandori, Matsuyama-shi, Ehime, 791-8058, Japan | |
| Nearest major airport | Matsuyama Airport(Car or Bus 10 minute ) | |
| Nearest major train station | Iyo Railway,Takahama Line,Mitsu station ( Foot 30 minute ) | |
| Nearest major bus station | Iyotestu Bus,Mitsu Yoshida Line,Nishisyomae Bus stop ( Foot 10 minute ) | |
| Berth | Gaikou #1 Wharf | |
| Port management | Ehime Prefectural Government,Public Works Department,River and Harbor Subdepartment,Harbor and Shore Division | |
| TEL | 089-912-2691 | |
| E-MAIL | kouwankaigan@pref.ehime.lg.jp | |
| COVID-19 Information URL | information on new coronavirus infection | |