Kansai International Airport

 Overview of Kansai International Airport (KIX)
 
Striving for the Environment-friendly Airport
 
Kansai international Airport (KIX) is the first 24-hour operated international airport in Japan. Aiming at resolving environmental problems seen at Osaka International Airport (Itami or ITM) and meeting the growing demands for air transport in the Kansai region, KIX was built on landfill, 5 kilometer offshore of the Senshu area, which is located southeast of Osaka Bay, taking full account of environmental protection. KIX opened in September 1994 and will mark its 20th anniversary next year.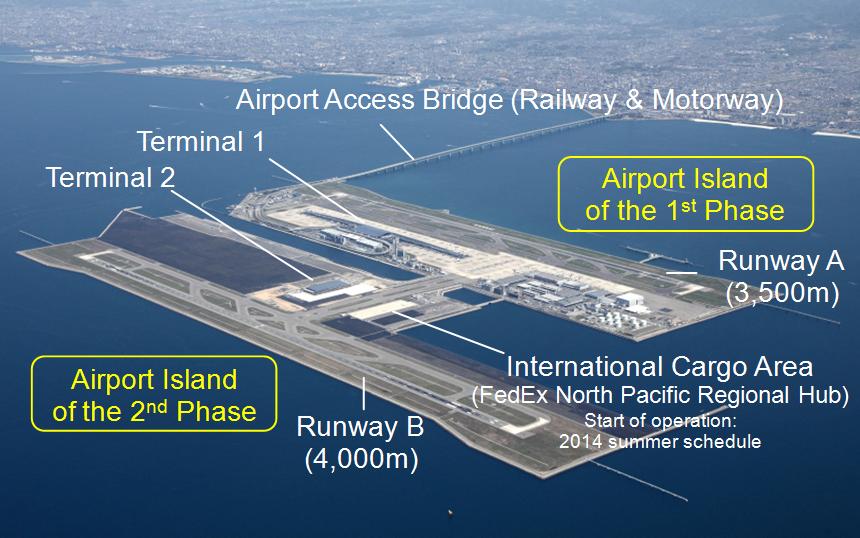 In order to capitalize on the vitality of private sector for this public project , the construction and administration of KIX had been carried out by Kansai International Airport Co., Ltd. which was a special public corporation jointly established by the national government, local governments and a private sector, and was founded based on a specific legal rule.
 
 KIX grows as an International Hub Airport in the Kansai Region
 
The Kansai region where KIX is located is one of the major economic regions in Japan with a population about 21 million and with a gross regional product about 92 trillion yen. To be specific, the gross regional product accounts for approximately 19% of GDP of Japan.
 
In addition to its economy, also in terms of its culture, this region is one of the foremost regions that have outstanding tourist attractions, including Kyoto and Nara, both of which are ancient capitals and centers of traditional culture of Japan that have the status of world cultural heritage, as well as containing numerous national treasures and important cultural assets. The airport therefore has played an important role in providing an air gateway connecting this attractive area with various regions in the country and other countries around the world in order to support the exchange of goods and people at home and abroad.
 
In fiscal year 2012, the number of takeoffs and landings was approximately 129 thousand, the passengers about 16.8 million, and the volume of cargo some 90 thousand tons. In response to the anticipated growing demand for air transport and to reinforce the international competitiveness, the 4,000-meter second runway was equipped in August 2007. Owing to this superb runway, KIX has become a 24-hour operated airport.
 
Seeking Increased Convenience and Comfort
 
63 carriers operate flights to and from KIX, serving 66 cities in 25 countries and regions around the world, including 11 domestic cities. Moreover, the airport offers greater convenience to passengers, and passengers can move between domestic and international airlines by just using an escalator or elevator inside the same terminal. In addition, on October 28 2012, Terminal 2 at KIX came into service as the first LCC (Low-Cost Carrier) terminal in Japan.
 
There are expressways and railways connecting KIX to other parts of the Kansai region and it is easy to get around the region. Taking an example, the city center of Osaka ―KIX, it takes about 30 minutes by limited express train and about 50 minutes by airport shuttle bus.
 
 Working toward the Implementation of the Concession at KIX and ITM
 
On July 1 2012, KIX and ITM have merged to form New Kansai International Airport Co., Ltd., attempting the rejuvenation and reinforcement as an international hub airports and to meet the ever-increasing air transport demands in the Kansai region through optimum utilization of the two airports. The new company is moving forward with positive actions, such as accepting LCC to expand the airlines' routes, transforming itself into an air cargo hub, and adding value to these two airports to achieve prompt implementation of the concession
 

Spec and Status of Kansai International Airport

Number of aircrafts spots
81 spots
Hours of operation
24 hours
Runway length
Runway A : 3,500 m×1
Runway B : 4,000 m×1
  (Open Aug 2, 2007)
Airport area
1st airport island : Approx. 510 ha
2nd airport island : Approx. 545 ha
 (Under Construction)
Number of takeoffs and landings per year
Approx. 129 thousand
(2012FY)
Number of passengers
Total: Approx. 16.80 million
International : Approx. 11.42 million
Domestic : Approx. 5.38 million
(2012FY)
Volume of cargo
Approx. 687 thousand tons
(2012FY)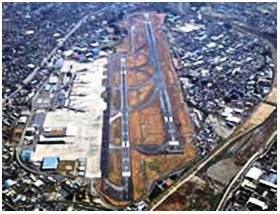 Overview of Osaka International Airport (ITM)