Country Profile
Denmark is made up of the mainland -- consisting Jutland Peninsula, a part of European Continent, and an archipelago of 406 islands in various sizes (of which 75 are inhabited) --, Faroe Islands off the shore of Norwegian Sea, and Greenland, the largest island in the world. Greenland and Faroe Islands are self-governed.
Its mainland is about the same size as Kyusyu, in the north facing across the sea the nations of Scandinavian Peninsula and in the south sharing its border with Germany. Most of the mainland is flat (highest point is 173m) and 53% of it is agricultural land. Population density of the mainland is 130 persons /km² which is about one third of Japan.
The mainland is roughly divided into three areas: Zealand with capital city Copenhagen, Funen and Jutland Peninsula. Copenhagen is linked to Scania Region of Sweden by Oresund Bridge. Copenhagen Kommune (City of Copenhagen) with population of 540 thousand belongs to the Capital Region of Denmark (wide-area local government). The Region, its neighboring Region Zealand, and Scania Region of Sweden are forming a metropolitan area (Oresund Region) with population of 3.5 million.
TableDenmark fast facts
Country name
Kingdom of Denmark
Surface area
About 43,000 km² (about the same as Kyusyu)
(excluding Faroe Islands and Greenland)
Population
About 5.70 million (2016: Statistics Denmark)
Population density
133/km² (2016)
Percentage of urban population
87.7% (2015)
GDP
USD 295.0 billion (2015)
GDP per capita
USD 52,114 (2015: IMF)
Percentage of employment by industry
agriculture: 1.1%
industry: 23.4%
services: 75.5% (2016 est.)
Economic growth rate
1.2% (2015: IMF)
(Information Updated: March 2017)
FigureMap of Denmark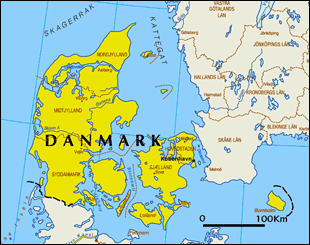 Local Administration System and Spatial Planning in Denmark
Recently, Denmark drastically reorganized its public sectors following the legislation of local administrative reform in 2005 and its effectuation in January 2007. All of the 14 amter (counties) which were the administrative units of the mainland were abolished and were restructured into 5 regions, which are the administrative units covering broader area. Regions are led by directly elected councils, and the elections are held every four years. Unlike counties, they have no power of taxation so they carries out their businesses based on subsidies provided by central government and contribution from kommunes (municipalities). At the same time services were transferred to central government and municipalities that was to make business of the regions narrower compared to that of the counties, and healthcare field became the major service provided by the regions. Reorganization of the municipalities also was undertaken in the local administration reform in 2007 and former 271 municipalities were consolidated into 98.
Administrative power related to spatial planning of national territory such as land use planning and regulation was previously shared by three administrative layers --- central government, counties and municipalities---, but after the abolishment of counties power of regions was weakened and virtually such power became to be shared within two layers --- central government and municipalities.
Figure:Denmark's planning system 2007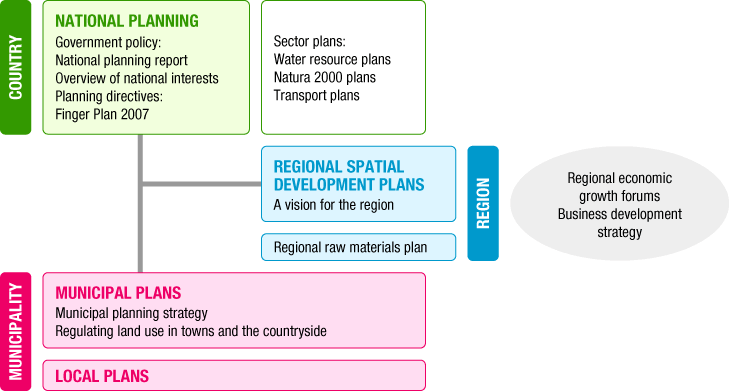 Source: Ministry of the Environment (2007) "Spatial Planning in Denmark"
Major Authorities Relating to Spatial Policy

In 1974, Denmark introduced regulations on national planning. Then gradually various related regulations were taken in and finally Planning Act was executed in 1992 in order to integrate those regulations. After that, along with recent reform of local administration system, the act was amended in 2005 and national planning itself was largely strengthened in 2007.
Income disparity between capital region and other areas are relatively small in comparison with international standard and it is becoming more balanced in late years. Moreover, gap in unemployment rate is much more balanced than that of income. Areas with slow growth of income and employment remains scattered in the areas including remote areas and here does exist a equity problem in remote and relatively less well-off areas, but it is expressed as the goal of regional policy that "all regions should contribute to maximizing national economic growth".
Spatial Planning
Spatial Planning System in the Past

There were national planning strategies formulated by central government, regional plans drawn up by 12 regional planning authorities (10 counties, Greater Copenhagen Authority, and Regional Municipal Council of Bornholm), and municipal and local plans prepared by each municipality. Each plan should not be made to contradict the planning decisions of upper levels. When decision in upper level was changed, plans in lower level had to be revised accordingly.
Spatial Planning System from 2007

Minister of Environment establishes the general framework of regional spatial development plan and municipal plan through national planning report, Overview of national interests in municipal planning, national planning directives, consultation, and other forms. The Minister holds veto to match municipal plan with overall national interest.

Table:Key Documents for National Planning and Power and Function of Minister of Environment

| | |
| --- | --- |
| National planning reports | Submitted by Minister of Environment after every election of Folketing (Denmark parliament) to be used in regional spatial development planning and municipal planning. The report further covers the special planning considerations for Greater Copenhagen. The report is a political document that includes visions and prospects for topical planning themes however it does not have a legal bounding power to regional and municipal plans. |
| Overview of national interests in municipal planning | Published by Minister of Environment every 4 years. The report is the document explaining national interests and expectations toward municipalitiers and it includes the interests and considerations arising from politically adopted decisions in the forms of legislation, action plans, sector plans, national planning decisions and agreements between public authorities. |
| National planning directives | Minister of Environment may establish binding rules on the content of planning. In this way, the government may promote both specific projects and a certain direction of development (the directive can be used in the place of municipal and local plans). Planning Act requires the Minister to establish specific rules for the plan on Greater Copenhagen in the form of National Planning Directives. |
| Veto and orders | Minister of Environment must veto a municipal plan proposal on behalf of all government ministers if the proposal contradicts national interests. Also, the Minister may order a municipal council to prepare a plan with a specified content. In special cases, the Minister may assume some authority granted to municipal planning authorities and decide a specific planning dispute. These options are used very rarely: when special national interests necessitate intervening in municipal autonomy. |
| Guidelines | Guidelines are an important part of national planning. They are issued regularly to interpret legislation such as guidelines on municipal planning, rural zone administration, local planning and environment impact assessment, etc. Other guidelines inspire local planning, incorporating environmental considerations, managing landscape protections or strategies for municipal planning. |

(Note) There are also reports on nature and environment policy, reports on retail trade planning, national park creation, etc.

Figure:National Spatial Structure (see Note)

Source: Ministry of Foreign Affairs (2008) "Factsheet Denmark"

Each regional council formulates regional spatial development plan which sets out development vision of respective region. This is a new type of strategic plan introduced by the system starting from 2007 and it is a guiding document with no binding power to the plans of municipalities which was the power that former counties had possessed.
Each municipal council summarizes the objectives and strategies of respective municipality in its own municipal plan. The plan will be the framework of detailed local plan which shall be provided by municipality and it also is the framework for dealing with individual development project following the Planning Act and various related legislation. Similar to the area planning system in Japan, municipalities of Denmark can determine geographical coverage to formulate local plans by its own discretion.
Figure:Area Classification in Finger Plan 2007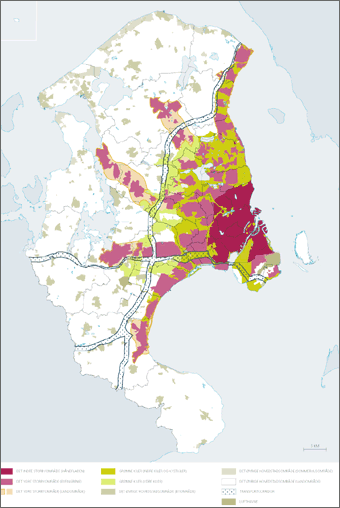 Source: Naturstyrelsen (Nature Agency), Miljøministeriet (Ministry of the Environment) (2007) "Fingerplan 2007"(Finger Plan 2007)
Spatial Planning for the Capital Region
The existing Planning Act requires Minister of Environment to establish rules for the plan on Greater Copenhagen in the form of national planning directives, and following this provision Finger Plan 2007 was formulated.
The plan on Greater Copenhagen was formulated for plural times since the first Finger Plan in 1947, and it was the first time for the national government to formulate it in 2007, as it had been formulated by councils which counties and municipalities participated (such as Greater Copenhagen Authority existed during 2000 to 2007) or otherwise study groups. The name "Finger Plan" is based on the thought of urban structure to concentrate urban development over the traffic axes (fingers of a hand) stretching toward suburban areas from the city of Copenhagen (palm) while keeping the areas between traffic axes as open spaces (green wedges), which has been a consistent philosophy from 1947 plan through to 2007 plan.
One of the unique aspects of Finger Plan 2007 compared to former plans is that it hasn't drawn a concrete development plan but gave discretion to municipalities instead. At the same time, the plan is distinctive of promoting concentrated location of large office buildings and commercial facilities within 600m radius from train stations and this is based on the understanding that more effort is necessary to reduce traffic congestion. It is also mentioned in the plan that in broader area integration in Oresund Region may progress further.

Figure:Axes of National Arterial Railway and Road "Big H"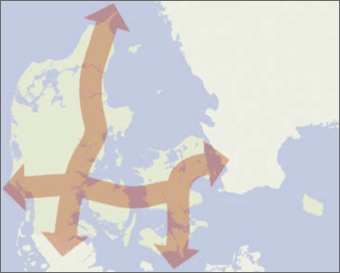 Source: Ministry of Foreign Affairs (2008) "Factsheet Denmark"
It is said that one of the characteristics of national planning in Denmark is that it has been putting, ahead of other countries, focus on how to build relationship between whole Europe (e.g. OECD (2010) "Regional Development Policies in OECD Countries"). From that viewpoint, one of the key issues in national spatial policy of Denmark is its effort to construct bridges making connection upon its national territory with islands and peninsular and to link them with international railway and road network in other countries. Since 1962, Denmark has been dealing with constructing the axes of national arterial railway and road which is called "Big H" structure, of which most of its domestic projects are completed and internationally Oresund Bridge between Sweden was opened in 2000, and now the biggest interest is to complete "Fehmarn Belt Fixed Link" development project by 2020, which will be the German side route connecting Sweden, Denmark and Germany via Oresund Bridge in short path. This is expected to greatly increase the connectivity between Denmark and central Europe.
(Information Updated: March 2012)