TableIndonesia fast facts
Country name
Republic of Indonesia
Surface area
About 1,890,000 km²
(roughly five times that of Japan)
Population
About 255 million (2015: government estimate)
Population density
135/km²
Percentage of urban population
53.7% (2015)
GDP (nominal)
USD 5,102 billion (2008)
USD 5,396 billion (2009)
USD 7,551 billion (2010)
USD 8,930 billion (2011)
USD 9,179 billion (2012)
USD 9,105 billion (2013)
USD 8,885 billion (2014) (World Bank)
GDP per capita (nominal)
USD 2,349.8 (2009), USD 2,977.0 (2010)
USD 3,498.2 (2011), USD 3,562.9 (2012)
USD 3,666.8 (2013), USD 3,531.9 (2014)
USD 3,374.5 (2015), USD 3,605.1 (2016)
(government estimate)
Percentage of employment by industry
agriculture: 13.7%
industry: 40.3%
services: 46% (2016 est.)
Economic growth rate (real)
6.4% (2010), 6.2% (2011), 6.0% (2012)
5.8% (2013), 5.6% (2014), 4.8% (2015)
5.0% (2016) (government estimate)
(Information Updated: March 2017)
Country Profile
Indonesia is a country made up of over 17,500 individual islands. Of those, there are about 6,000 inhabited islands, and these constitute about 700,000 square kilometers (38% of the total land area).
Indonesia is the fourth most populous country in the world after China, India, and the United States.
Indonesia is home to over 300 ethnic peoples, but almost 70% of the entire population lives on the island of Java, which accounts for a mere 6% of the land area of the country.
Roughly 82% to 83% of the country's economic activity is concentrated in western Indonesia (Sumatra, Java, and Bali), clearly attesting to the severe disparity in levels of economic development in the country. There is also a significant disparity between Java and other areas (termed "non-Java").
FigureMap of Indonesia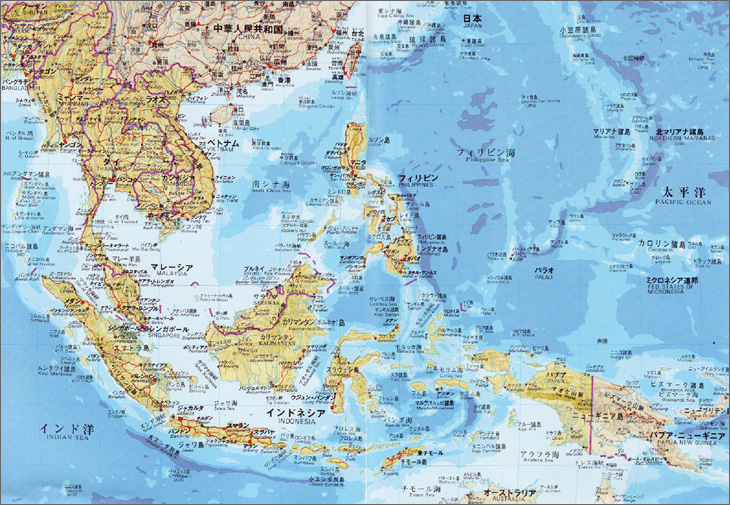 Source: New: South and Southeast Asia Illustrated, Akira Takahashi, Heibonsha Limited, Publishers, 2000 (in Japanese)
Local Governments and Spatial Planning System
The government of Indonesia is three-tiered, consisting of provinces (34 including special provinces), cities (93 urban local government), and regencies (416 rural local government). (All data as of June, 2015)
The respective governments have the authority to draft socioeconomic development plans according to the National Development Planning System Law (Law No. 25/2004) and spatial plans according to the Spatial Planning Act (No. 26/2007). Development in the country centers on these plans.
Figure:Socioeconomic planning system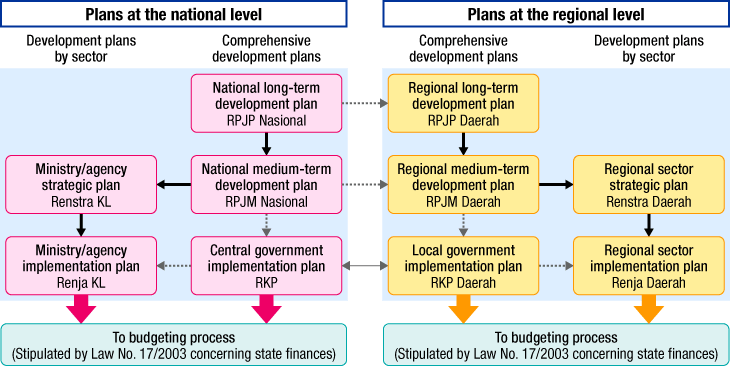 Source: Prepared based on the National Development Planning System Law
Figure:Spatial planning system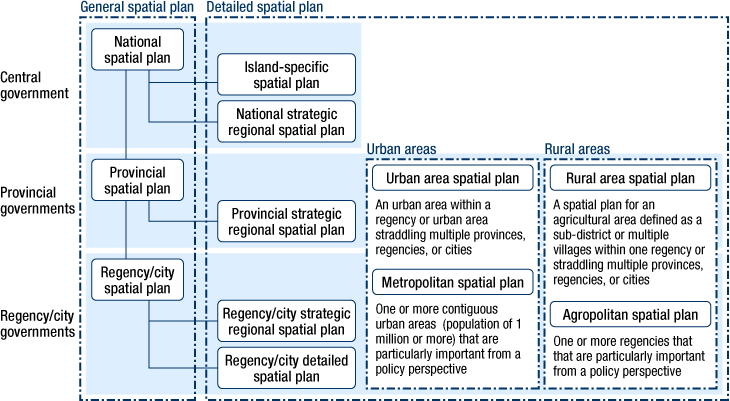 Source: Prepared based on the Spatial Planning Law
Major Authorities Relating to Spatial Policy

Socioeconomic Development Planning System at the National Level
The national-level development plan (socioeconomic development plan) in Indonesia is planned on the basis of National Development System Law (Law No.32/2004) and it consists of 20-year National Long-term Development Plan, 5-year National Medium-term Development Plan and an annual Implementation Plan. Coordination between these development plans is dealt by National Development Planning Agency (BAPPENAS). Moreover, The National Medium-term Development Plan represents political commitment of the President of Indonesia.
The Long-term Development Plan functions to outline the direction of development policy including vision, mission, and strategy for 20-year period. The Medium-term Development Plan includes national development strategy, macroeconomic framework and prioritized measures for the next five years, and also in the plan the President of Indonesia's administrative policy is represented with consideration of compatibility with long-term development plan. The plan is to be established within three months after the president's inauguration. (The president is directly elected for five-year term of office and eligible for single re-election.) The duration of the current long-term plan (Law No. 17/2007) is from 2005 to 2025, and envisions "self-reliant, progressive, just and prosperous Indonesia"
The new National Medium-term Development Plan (period: 2015-2019) drawn up under the administration of President Joko Widodo who is in office since October 2014 serves as the third stage of the current long-term plan and it envisions "realization of Indonesia as an independent state based on the spirit of self-reliance and gotong royong (mutual cooperation)" Its pillars of policies include human resource/social development, economic development, disparity reduction and environmental friendliness, reflecting the government's consciousness towards sustainable development. Further, "Quick Wins" a tool for "visualization" of the achievement will be implemented to promote developments.
Spatial Planning System at the National Level
Spatial plans in Indonesia first gained a legal basis with the passage of Law No. 24/1992 (Spatial Planning Act). The act was amended in 2007 in the context of decentralization, urbanization, and other factors (Law No.26/2007). In the amendment process of the act, response to rapid progressing urbanization was regarded as the most prioritized issue. Therefore, the act contains transport plan, green space plan and information related to informal sectors especially in the city's spatial plan (not always required in the provincial spatial plan), and the act also sets out numerical goal to secure 30 % of the city land as open space (city parks, green roads, cemeteries, etc.). Moreover, for large cities such as Jakarta and Surabaya, metropolitan spatial plans are under establishment process.
The current national spatial plan, which was established as National Spatial Plan (Law No. 26/2008), covers 20-year period and it is to be reviewed every five years. The organization responsible for drafting the plan was the National Spatial Planning Coordination Board, which was chaired by the Coordinating Minister for the Economy. The board's offices were set up in the National Development Planning Agency (BAPPENAS) and headed by BAPPENAS's director. The Directorate General of Spatial Planning of the Ministry of Public Works was charged with handling the practical implementation of the board's plan.
The content of the plan are to be the guidelines for effective and efficient planning processes to achieve the stated objectives of the plan. The purpose of Strategic Development Framework is to create national land strategy. The framework seeks to achieve security, economic viability, and sustainability in the use of land in this archipelagic country to enhance national cohesiveness and stability. In concrete, as for urban development, all cities are classified into four groups; national central city, inter-region central city, regional central city or national strategic central city, and the classification standard and the role of each group is defined, for example; national central city is i) export/import center or international gateway, or a urban area with such potential, ii) center of industry and service (nationally or among more than one province) or a urban area with such potential, iii) transportation node (nationally or among more than one province) or a urban area with such potential, etc.
The Planned Development of the Jakarta Metropolitan Area
Necessity of metropolitan-level development in Jakarta metropolitan area (called Jabodetabekpunjur, a name derived from the constituent areas) had been discussed since the late 1950's. The movement accelerated after the establishment of "Local Preparation Bureau for Development in Jabodetabek Metropolitan Area" in 1975 and issuance of "Presidential Decree on Development of Jabodetabek Area" in 1976, and helped by decentralization of government, the framework of promoting integrated metropolitan-level development was organized as represented by establishment of "Jabodetabekpunjur Development Planning Bureau" which was established by all of the local governments in metropolitan area in 2006.
Also, under the amended Spatial Planning Act, Jabodetabekpunjur Spatial Plan (Presidential Decree No. 54/2008) covering the whole metropolitan area was established. Its planning period is 20 years (2008-2027) within which the plan will be revised once in five years. Provincial and city/regency governments within the metropolitan area also have to establish provincial/city/regency spatial plans with consideration to the content of metropolitan area spatial plan which are to be established no later than two years from the metropolitan plan's implementation.
The goal of this metropolitan spatial plan is to satisfy both economic development and environmental preservation, and to deal with the goal the plan sets out three strategies; i) promote integrated development in metropolitan area regarding the area as a unified planning area, ii) promote development which will take in account sustainable environmental capacity, protect water and soil, secure usage of ground/surface water and overcome flood disaster and iii) promote productive, effective and efficient regional economic development taking advantage of regional characteristics with consideration to public welfare and sustainable development, and it presents spatial structure (spatial system, infrastructure network and other factors based on National Spatial Plan) and spatial distribution (land use, etc.). As for urban structure, the plan basically takes over the former plan --- Jakarta in the center surrounded by satellite cities such as Bogor, Depok, Tangerang and Bekasi ---, but it also mentions about constructing "New Jakarta Orbital Highway" within 20-30 kilometers radius from central Jakarta and developing "suburban sub-center" along the highway such as Serpong, Cinere, Cimanggis, Cileungsi, Setu and Tambun. Transport system will serve as the key element in actualizing such urban structure, so that the plan also stresses expansion and development of urban transport network (existing railways, BRT (Bus Rapid Transit), MRT, etc.). At the same time, from the viewpoint of environmental preservation, preservation of southern Bogor Regency --- the water source of metropolitan area --- is expressed.
However, although this metropolitan area spatial plan is expected to be the guideline for the development of overall urban area, adjustment of interests between different levels of government is needed as the local governments (especially in cities and regencies) are given greater authorities since the decentralization of government.
Figure:Jabodetabekjur spatial plan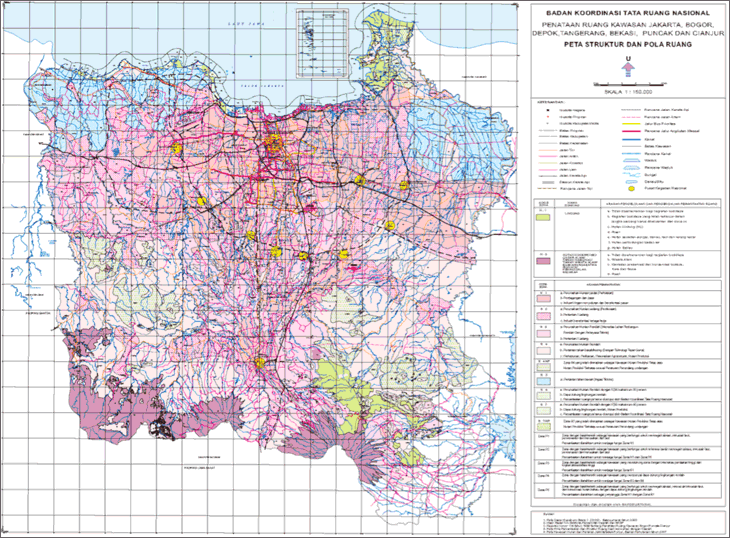 Source: The Directorate General of Spatial Planning of the Ministry of Public Works

Establishment of a New Ministry "Ministry of Land and Spatial Planning"
For further enhancement of spatial planning, "Ministry of Land and Spatial Planning" was established (2015). The ministry was set up by merging respective departments of Ministry of Public Works whose role was spatial planning into former National Land Agency whose role was administration of land registration. Reflecting the increased authority of local governments along with decentralization, the ministry will be a sole organ responsible for administrative work related to spatial planning including coordination of interests among local governments upon enhancement of local planning capacity, development/implementation of plans etc., (However, implementation of plans are dealt by various ministries such as Ministry of Public Works and Public Residence.) For example, aforementioned spatial planning of Jakarta metropolitan area is now under review by the ministry.
Nationwide development of "Cities without Slums"
Indonesia having hosted the preparatory meeting of HABITAT III, the third United Nations Conference on Housing and Sustainable Urban Development, nationwide policies toward improvement of slum environment have been mapped out in recent years. A policy goal, "Cities without Slums" was set in 2010, and in 2011 importance of government's role in tackling residential issues including slums was stipulated upon revision of "Law regarding Housing and Residential Areas". Further, in 2015 Ministry of Public Works set series of goals to be achieved by 2019 in order to promote "Cities without Slums Program". The goals are; 100% of citizen having access to clean water supply, 0% living in slums, 100% having good access to sanitation and 100% of local municipalities developing ordinance for building construction. Following this, National Development Planning Agency created "Indonesia Slum Alleviation Policy and Action Plan (SAPOLA)" and presented specific roadmap towards realization of "0% slum areas in the cities". These movements impacted by the HABITAT III meeting seem to have reached out to administrative levels as well, showing full-fledged deployment of actions.
(Information Updated: May 2017)