Country Profile
Situated at the center of the Indo-Chinese Peninsula, Thailand's boarders extend from the Indian Ocean on the western peninsular coast to Myanmar in the north, Laos to the northwest across the Mekong River, Cambodia to the southeast, and Malaysia to the south.
As the primate city, Bangkok enjoys overwhelming regional advantages.
The problem of over-concentration of Thai population in Bangkok has long concerned authorities, due to the large discrepancy in income between urban and rural residents.
TableThailand fast facts
Country name
Kingdom of Thailand
Surface area
514,000 km² (about 140% that of Japan)
Population
65.95 million (2010)
Population density
128/km²
Percentage of urban population
50.4% (2015)
GDP
395.2 billion (2015: NESDB)
GDP per capita
USD 5,878 (2015: NESDB)
Percentage of employment by industry
agriculture: 8.9%
industry: 35.9%
services: 55.3% (2016 est.)
Economic growth rate
▲0.9% (2015: NESDB)
(Information Updated: March 2017)
FigureRegions of Thailand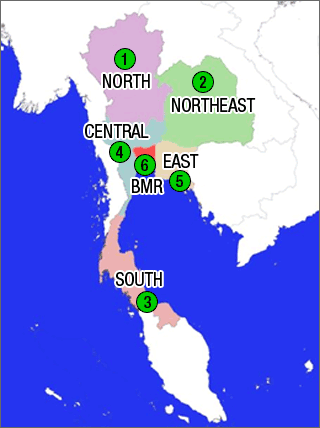 Source: National and Regional Planning Bureau, MLIT, Japan (2009) "Report on the 2008 National Spatial Policy Seminar"
Thai Bureaucracy and Spatial Planning System
There are three basic levels of public administration in Thailand: central, provincial, and local administration. The central administration consists of ministries. The provincial administration comes under the concept of deconcentration, which means that the central government delegates some of its power and authority to its officers who work in provinces and districts, and the provincial administration consists of provinces, districts, minor districts, subdistricts (or Tambon) and villages. The local administration is based upon the concept of decentralization, which allows local people to participate in local affairs under concerned laws and regulations, and there are 2 types of local administrative organization: the general type (composed of Provincial Administration Organization, Municipalities, and Subdistrict Administration Organization); and the special type (consisted of Bangkok Metropolitan Administration and the City of Pattaya).
The National Economic and Social Development Plan, which is under the purview of the Office of National Economic and Social Development Board, has been considered the document with the highest authority in matters involving national spatial policy. Spatial development policies, including region-specific programs, have traditionally been included in this document, but in recent years the policy statements on spatial development have grown weaker, and at the same time the Department of Public Works and Town & Country Planning of the Ministry of Interior has become much more involved in spatial development and planning at the national, wide-area regional, subregional, provincial, town, and specific area levels.
Table:Structure of planning system in Thailand
Stages of plan
Plans
Responsible authorities
National
Policy Plan : National Economic and Social Development Plan
National Economic and Social Development Board (NESDB)
Spatial Plan : National Spatial Development Plan
Department of Public Works and Town &
Country Planning, Ministry of Interior (DPT)
Regional
Regional Spatial Development Plan (6 regions)
Department of Public Works and Town &
Country Planning, Ministry of Interior (DPT)
Subregional
Subregional Plan
Department of Public Works and Town &
Country Planning, Ministry of Interior (DPT)
Provincial
Comprehensive Plan
Department of Public Works and Town &
Country Planning, Ministry of Interior (DPT)
Town
Comprehensive Plan
Department of Public Works and Town &
Country Planning, Ministry of Interior (DPT)
Specific area
Specific Plan
Department of Public Works and Town &
Country Planning, Ministry of Interior (DPT)
Source: Department Public Works and Town & Country Planning, Ministry of Interior, Thailand (DPT) (2013).
Figure:Spatial Plan Hierarchy and Characteristic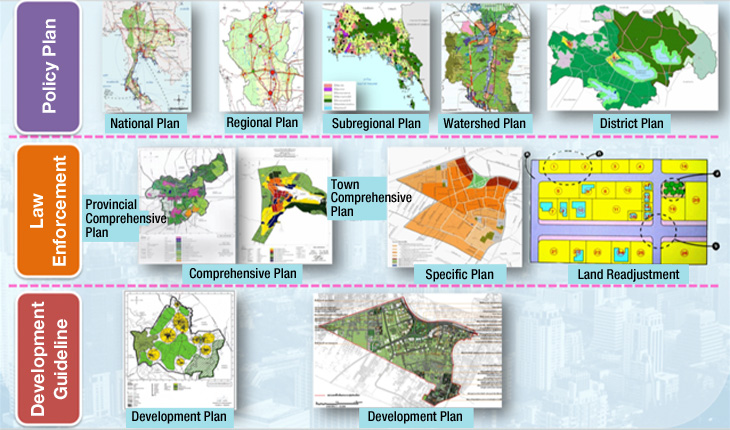 Source: DPT (2013)
Figure:Thai Bureaucracy System

Major Authorities Relating to Spatial Policy

Socioeconomic Planning System at the National Level (National Economic and Social Development Plan)
The purpose of the National Economic and Social Development Plan is to function as a national policy framework and to serve as a set of guidelines for policy-makers and government agencies when drafting or revising specific development policies. The initial development plan was for a six-year period, but successive plans have spanned a five-year period.
The National Economic and Social Development Plan is drafted by the Office of National Economic and Social Development, approved by the cabinet, and promulgated by government decree. The current 11th plan covers the period from 2012 to 2016 holding a mission of "A happy society with equity, fairness and resilience."
Past plans have had salient purposes and clear titles such as "Regional Development" and devoted considerable space to the topic of spatial development; however since the 9th plan onwards, spatial development has received very little attention.
The current 11th plan does not have national and regional spatial policies as a specific topic. However, it has five keys toward urban/regional development; (1) Formation of ecological cities upon industrial accumulation; (2) Formation of creative cities within capital area and major local cities; (3) Development of border areas by taking measures including creation of economic zones (trade/industry/logistic zones, etc;) (4) Redevelopment of existing cities and economic zones regarding improvement of lives and sustenance of low-income groups; (5) Formation of eco-friendly cities which doesn't rely only on the economy but cares about social/cultural aspects.
Spatial Planning System at the National and Regional Levels (National Spatial Development Plan)
Thailand's former spatial development was done without official spatial policies, either at national or regional level, as explicit frameworks for leading, supervising, controlling, and integrating the urban-rural developments. In addition, development planning systems lacked united and efficient cooperation among agencies concerned resulting in numerous problems e.g. imbalanced developments of land use, society, and economy, improper natural resources management, urban and communities expansion in disorder, people's settlements in dangerous areas, diffusion of industrial plants and hazardous warehouses along with residential areas, natural resources and environments exacerbated, poverty problem, differences in growth and profits dispersal, insufficient public services and facilities for all urban and rural areas, etc. Other than a direct impact on people's quality of life, these problems also caused higher development costs and adversely affected national competitiveness and economic system.
On 9 July 2002, the Cabinet mandated the Department of Public Works and Town & Country Planning (DPT) to accelerate development of the urban plan to cover all areas throughout the country. In compliance with the aforesaid resolution, DPT had established a National -regional plan in order to set up the development policies, strategies, and measures as frameworks for spatial development and planning at all levels in line with each the area's features and potentiality. This national -regional planning is intended to help the country get ready for dealing with the changes in globalization age, to meet public demands, to enhance the national competitiveness, to improve people's quality of life, to maintain national art and cultural heritages as well as to create strong and pleasant communities, and to bring about the sustainable developments on the self-sufficiency economy basis.
Directions and policies for national spatial development are formulated for 50-year period (2057), with establishment of urgent strategic plans for 5-year period (2012), 10-year period (2017), and 15-year period (2022). National spatial planning areas cover all areas throughout Thailand in 76 provinces, including special local administration organizations, i.e. Bangkok and Pattaya.
In order to archive the visions in 50-year (2057), "Thailand will be a world leader in agriculture, agro-industry, food technology, health services, and tourism. Thai people will have a good quality of life in the pleasant environment. The country will be solidly established with sustainable growth.", there are development frameworks as follow:
1. Economic potential zone development
2. Growth distribution to all regions
3. Linkage to other ASEAN countries
Thailand's strategic position and overview of future development trends have been conveyed to the national development policies on the whole by giving priority to urban balance increase and urban clusters development with comparable economic activities and progress as well as promoting secondary rural centers to get more strength, be capable of self-reliance, and benefit from regional linkage given that the national development policies have to be compliant and support major issues as follows:
1. Populations and workforces distribution
2. Economic development
3. Urban-rural organization according to proper roles and functions
4. Most efficient land use
5. Development of transportation systems, technology and communication, and energy
The 50-year National Spatial Development Policy consists of both national plan and wide-area regional plan (national-regional plan), of which six regions --- Bangkok and its vicinity, Eastern Region, Central Region, Northeastern Region, Northern Region, Southern Region --- are assigned as the wide-areas. This policy covers the field of (1) land use and development, (2) agriculture, (3) urban and rural development, (4) industry, (5) tourism, (6) social services, (7) transportation, energy, IT, telecommunication, (8) prevention of natural disasters.
The National Spatial Development Plan is required to be reviewed within every five years and it is now facing the need of revision with the prospect of ASEAN Integration coming up in 2015 and under the condition that the viewpoint of disaster prevention based on the experience of the great flood in 2011 being focused. It is scheduled to be amended during 2013.
As per regional development frameworks, to enable all national regions to make the maximum use of their potentialities in the way they support and comply with one another, and to allow the country planning implementation to achieve its target, regional development frameworks on individual basis are therefore designated as follows:
Bangkok and its vicinity : Promoting Bangkok and its environs to play the role of capital city and national center that maintains the global city status as air transportation center and all types of transportation distribution center towards Southeast Asian, East Asian, and South Asian regions, as well as developing Bangkok into the pleasant cities for both residents and visitors, with well-fitting density, orderly growth, and inner spaces so as to maintain environmental quality and enhance people's healthy way of life.
Eastern Region : Other than being development bases of major large and medium scales of national export-import industries accommodating industrial and service employments as shared out of Bangkok and excessive workforces from other regions, the eastern region still needs areas management for environmental preservation to progressively maintain its role on national farming and natural tourism. Consequently, it is necessary that strict and severe policies on land use be formulated.
Central Region : With plentiful agricultural areas surrounding Bangkok and its environs, the central region has acted as both environmental maintaining land-strip of metropolis and significant linking areas to national major economic sector, which will help distribute the growth throughout the countries. For this reason, the central region includes various roles and functions, i.e. urban and industrial development, agricultural research and development, conservative tourism promotion, and the linkage of the main communication routes to neighboring countries.
Northeastern Region : The region with innumerable major workforces of the country with the wealth of natural resources and related cultural heritage to Loa PDR and Cambodia.
Northern Region : Laying emphasis on maintenance of abundant and diverse natural resources base, determined continuance of Lanna Culture, simultaneously with development the region into commercial gateway to China.
Southern Region : The region has outstanding potential for connecting ASEAN by sea; however, its constraint is necessity to watch over valuable natural resources as well as cultural sensibility, which are unique and highly conservative.
As Thailand has been at the outset of the national and regional planning development, to complete implementation of the plans in explicit, systematic, and efficient manner, supporting laws and regulations and state's earnest promotion are necessarily required. All agencies concerned and every sector in the society have to cooperatively move forward the country plans into the real practice, with development of a monitoring and assessment system on regular basis as follows :
1. Enforcing laws in relation to national planning
2. Pushing the Government, in the way of policy, to designate "Urban Planning" as the national agenda
3. Supervising policies implementation
Figure:Sustainable Spatial Plan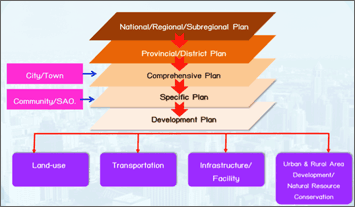 Source: DPT (2013)
Figure:Thailand's Development Frameworks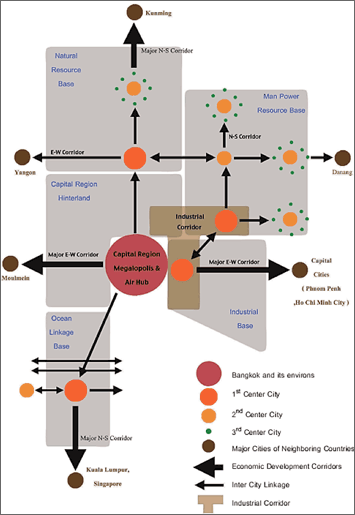 Source: DPT (2009) "Thailand National Spatial Development Plan 2057"
Figure:National Spatial Development Strategies Implementation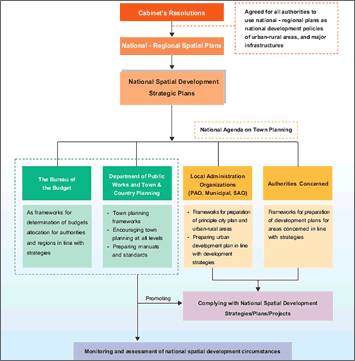 Source: DPT (2009) "Thailand National Spatial Development Plan 2057"
Outline of Bangkok and its Vicinity Regional Plan
Bangkok and its Vicinity play a fundamental role in the administration and governing of the country. Regional development in the past has enabled Bangkok and its Vicinity to attract varieties of developmental activities, from the development of infrastructures, social services, and particularly the development of economic activities. The concentration of development in the region has led to inequality in income and employment opportunities compared to other regions. The subsequent development situation lies in the rapid growth of all activities, with the region being the center of settlement, industry, commerce, and services including social services. The aforementioned are key factors that attract labor and populations from other regions.
The urban sprawl of the area has led to inappropriate land use, which has instigated various urban problems. There has been rapid growth within the area joining the inner city and urban fringe, creating economic, commercial, industrial, and residential centers in both vertical and horizontal directions. These types of development create problems of insufficient services and facilities, as well as the growth of urban communities along the transportation routes in both the urban fringe and suburb areas. Most of these areas are developed into residential quarters, with huge department stores and industrial clusters along the main transportation routes and the intersections between two main roads. This leads to problems in providing infrastructures, which cannot be thoroughly distributed, and influences the high price of the land. Furthermore, Bangkok and its Vicinity have become congested with overpopulation, employment sources, and traffic. Subsequent problems include: urban environment, disorganized town plan, the over-exploitation of natural resources for development and maintenance, encroachment upon efficient agricultural land, job and housing balance problems, and ensuing traffic problems. It is apparent that all of these problems, arising from unplanned development, has not only had an impact on inappropriate land use, but will lead to a chain of continuous problems as well. In order to ensure a better quality of life for people in the region, the land use problem must be alleviated. The formulation of the Bangkok and its Vicinity Regional Plan is fundamental in defining a unified developmental framework. Opportunity, potential, and problem solving strategies for spatial management and development have been taken into account. Outside influences have also been incorporated into this study, analysis through both strategic policies and plans, as well as international collaborations at all levels. Global and national factors such as the environment, population, and energy have also been considered. In order to clearly picture the development trends and possibilities, the external as well as internal factors, such as a study in spatial constraints and potential, must be considered. This integrated analysis of information is used in the formulation and development of Bangkok and its Vicinity Regional Plan, reflecting the quality of life of the people in the region.
Figure:Development Policy for Bangkok and its Vicinity, 2057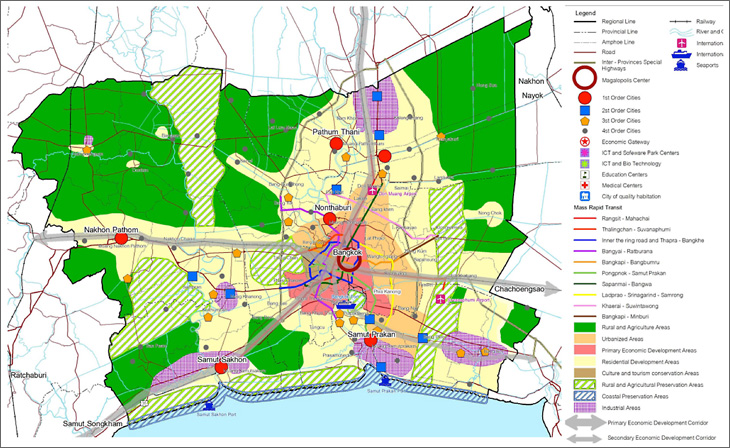 Source : Bangkok and its Vicinity Regional Plan 2057, DPT (2009)

Changes in Preferential Treatment for Industrial investment in Local Areas
Since 1988, the Board of Investment (BOI), Thailand divided the whole country into three zones and adopted regional zone system to give more benefit to the companies which are located far apart from Greater Bangkok in order to help in development of local areas by promoting companies investment in these areas. However, in 2012, discussion has begun to abolish this system. The current government evaluated their measure to encourage investment into local areas and judged that its effect was limited. It made them to consider about the policy replacing the preferential treatment based on regional zone system, which led to the idea of adopting "industrial field" system to treat preferentially the necessary industry in the country. Candidate sectors to receive such treatment are those within industries including creative industry, environmental industry and high value-added industry, such as biotechnology, nanotechnology, green industry, alternative energy, etc. The conclusion whether to move on to the new system or not will be drawn in early 2013 (according to the information as of December 2012.)
Apart from the consideration of abolishing regional zone system, there are factors that may have a certain impact on industrial investment in Thailand including the discussion of unifying minimum wage of labor throughout the country, ASEAN economic integration and country-by-country economic development scheme for border areas that will suit international transportation corridor constructed to cover Indo-china areas, which means that development policy of local areas (regional disparity adjustment policy) in Thailand is facing a turning point.
Figures:Division of Zones and Incentives for each Zone Determined by the Board of Investment, Thailand (BOI)
| Benefits | Zone 1 | Zone 2 | Zone 3 |
| --- | --- | --- | --- |
| Exemption of corporate income tax | 3 years | 7 years | 8 years |
| 50 % tax reduction for 5 years from the expiration of tax exemption | × | × | ○ |
| Reduction of import tax for machinery and equipment | 50% tax reduction for those reach 10% or over | tax exemption | tax exemption |
| Exemption of import tax for raw materials for export products | 1 year (extendible) | 1 year (extendible) | 5 years (extendible) |
| Land ownership by foreign firms | ○ | ○ | ○ |
Map: taken from the website of the Board of Investment, Thailand (BOI),
Figure: provided by Bangkok Office of Japan External Trade Organization (JETRO)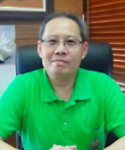 Information update:March 13, 2013
Contributor: Oran Sakkayarojkul (Director of National and Regional Planning Bureau, Department of Public Works and Town & Country Planning, Ministry of Interior, Thailand)