TableStatistics of Malaysia
Country name
Malaysia
Surface area
About 330,000 km²
(roughly nine tenths that of Japan)
Population
29.95 million
(2013: Malaysian Statistics Bureau)
Population density
91/km²
Percentage of urban population
74.7% (2015)
GDP (nominal)
MYR 474.0 billion (2004)
MYR 543.6 billion (2005)
MYR 596.8 billion (2006)
MYR 665.3 billion (2007)
MYR 769.9 billion (2008)
MYR 712.9 billion (2009)
MYR 797.3 billion (2010)
MYR 885.3 billion (2011)
MYR 941.9 billion (2012)
MYR 986.7 billion (2013)
(Malaysian Statistics Bureau)
GDP per capita (nominal)
USD 4,816 (2004), USD 5,421 (2005)
USD 6,066 (2006), USD 7,144 (2007)
USD 8,372 (2008), USD 7,203 (2009)
USD 8,659 (2010), USD 9,979 (2011)
USD 10,387 (2012), USD 10,548 (2013) (IMF)
Percentage of employment by industry
agriculture: 8.2%
industry: 37.8%
services: 54% (2016 est.)
Economic growth rate
6.8% (2004), 5.3% (2005), 5.8% (2006)
6.3% (2007), 4.6% (2008), ▲1.7% (2009)
7.2% (2010), 5.1% (2011), 5.6% (2012)
4.7% (2013)
(Malaysian Industrial Development Authority)
(Information Updated: March 2017)
Country Profile
Malaysia is located in Southeast Asia, with Kuala Lumpur as its capital city. As a federation, the governance of the country is divided between the federal and the state governments. It consists of 11 states in Peninsular Malaysia (Johor, Kedah, Kelantan, Malacca, Negeri Sembilan, Pahang, Perak, Perlis, Penang, Selangor, and Terengganu), 2 states on the island of Borneo (Sabah and Sarawak) and 3 federal territories (the Federal Territories of Kuala Lumpur and Putrajaya in Peninsular Malaysia, and the Federal Territory of Labuan off Sabah).
As a Muslim country, Malaysia is also a multi-ethnic and multi-cultural country where the ethnic groups consist of Malay, Chinese and Indian. Other significant groups are the indigenous people of Sabah and Sarawak, including Kadazan, Dusun, Bajau, Murut, Iban, Bidayuh and Melanau. The main industries are rubber and palm oil processing and manufacturing, light manufacturing industry, electronics, tin mining and smelting, logging and timber processing, tourism and petroleum.
Malaya, the previous name of Malaysia, was under the British's colonization since the late of 18th century. It finally gained its independence on 31st of August 1957. MALAYSIA, a unified state, was formed on 16 September 1963 due to the union of Singapore, Sarawak, British North Borneo and the Federation of Malaya. However, because of the pressure in the early years, a conflict between Indonesia and the expulsion of Singapore occurred in 1965.
FigureMap of Malaysia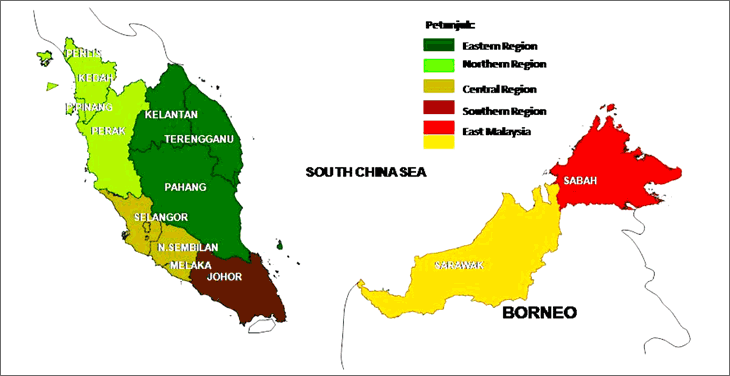 Source: Federal Department of Town and Country Planning, Malaysia, 2010
Local Governments and Spatial Planning System
As a federal constitutional monarchy, the government administration is divided into three levels namely Federal Government, State Governments (comprising of 13 states; meanwhile a region is an area situated in two or more states) and Local Authorities (149 local authorities; 12 city councils, 39 municipal councils, and 98 district councils).
Local Government Act 1976 (Act 171) and Town and Country Planning Act 1976 (Act 172) became the basis of legislation to restructure local government system. Malaysia's structure of government administration is utilizing the decentralization concept comprising of two forms namely deconcentration and devolution as described in Table.
TableDecentralization Concept In Malaysia
DECONCENTRATION
DEVOLUTION
Functional Deconcentration
Federal government transfers responsibilities and functions to lower levels of national government through the ministry and state officers (field agents). E.g: Departments that are assigned to be in charge with health, education, agriculture.
Higher levels of governments transfer authority for decision-making, finance, and management to local government. Local government however cannot operate on its own but must develop good relationship with state and federal government.
Prefectoral Deconcentration
Federal government assigned an officer or commissioner who has higher position in an area (district) to help with the implementation or enforcement for the central government. E.g: District Officer.
Compulsory Authority: Accommodating facility and services such as garbage collection, sanitary, control of disease outbreaks, building control, etc.
Discretion Authority: Development or ownership of land, real estate investment.
Adapted From: Abd. Rahim Md. Yunus (2001)
FigureNational Development Planning Framework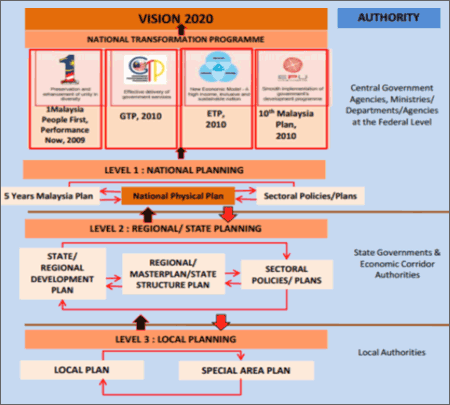 Source: Federal Department of Town and Country Planning, Malaysia, 2013
"National Physical Plan 2"
According to the development plan system stipulated in Act 172, the national strategic spatial planning known as National Physical Plan (NPP) is under the governance of federal level. It should be chaired by Prime Minister and Deputy Prime Minister as the deputy chairman. Meanwhile, regional plans entail projects involving two or more states are drafted to tackle any significant strategic issues.
Following the framework of national physical development, the policies and plans are subsequently interpreted into State Structure Plan which is accompanied by specific maps and illustrations. These plans provide policies on development and use of land in a state.
Consequently, Local Plan is drafted at the local level outlining detailed and site specified development facilitation and control. Also, another form of local level plan named as Special Area Plan is required as it provides detailed planning of areas needing special treatment.
Major Authorities Relating to Spatial Policy

Socioeconomic Planning Systems at the National Level
The formulation, coordination and decision making of economic and social development policies and programs in Malaysia are being directed by Vision 2020 and Malaysia Plan. Vision 2020 is a Malaysian's mission introduced by the former Prime Minister, Tun Dr. Mahathir Mohamad during the tabling of the Sixth Malaysia Plan in 1991. The vision outlines nine strategic challenges that Malaysia must overcome in order to achieve a self-sufficient industrialized and fully developed nation by the year of 2020. It also emphasizes on the environment and system's betterment of economic, social, political, governmental, cultural and spiritual values.
The Malaysia Plan is a five-year plan of comprehensive economic development blueprint where the Economic Planning Unit of the Prime Minister's Department is being entrusted with the task of preparing it. The current Tenth Malaysia Plan (2011 – 2015), is heading towards the end of its execution. Meanwhile, the Eleventh Malaysia Plan (2016 – 2020) is now at the preparation stage and scheduled to be tabled in Parliament in June 2015. It will focus on enhancing social inclusion, improving wellbeing, creating a sustainable development and identifying new sources of growth.
The Tenth Malaysia Plan which is at the critical phase in the nation's economic transformation towards Vision 2020 contains the aspirations of both the Government Transformation Programme and the New Economic Model. The new policy directions, strategies and programmes set the platform for a major structural transformation to achieve a high income and developed nation, premised on inclusiveness and sustainability. It upholds the principles of 1 Malaysia: People First, Performance Now.
The central themes of the Plan have been encapsulated into 10 Big Ideas namely:
i. Internally driven, externally aware;
ii. Leveraging on our diversity internationally;
iii. Transforming to high-income through specialization;
iv. Unleashing productivity-led growth and innovation;
v. Nurturing, attracting and retaining top talent;
vi. Ensuring equality of opportunities and safeguarding the vulnerable;
vii. Concentrated growth, inclusive development;
viii. Supporting effective and smart partnerships;
ix. Valuing our environmental endowments; and
x. Government as a competitive corporation.
Spatial Planning System at the National Level (the National Physical Plan)
FigureNPP-2 Development Strategy: 'Concentrated Decentralisation'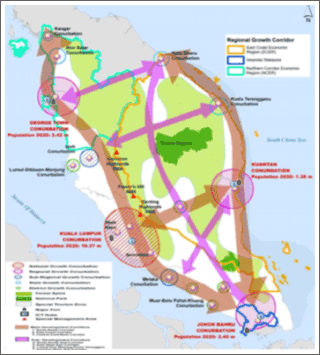 Source: Federal Department of Town and Country Planning, Malaysia, 2013 "National Physical Plan 2"
National Physical Plan (NPP), the national strategic spatial planning policies and measures, is drafted by the Federal Department of Town and Country Planning under the provision of Section 6B of the Act 172. The first NPP has been approved by the Cabinet in 2005 where the general direction and broad pattern of the land use and physical development of Peninsular Malaysia covers the period from 2006 to 2020. The review of NPP must be conducted in every five years in tandem with the review of the National Five-Year Development Plans, or as when directed by the National Physical Planning Council (NPPC).
The implementation of vision, policies, measures and land allocations formulated in NPP will be conducted primarily through collaborative process between the federal government and the states by utilizing the State Structure Plans. At present, Act 172 requires that the implementation of NPP spatial policies apply only to Peninsular Malaysia as the development control process in Sabah and Sarawak is governed by separate planning systems.
The revised NPP (NPP-2) was endorsed in August 2010 with its goal stated as "the establishment of an efficient, equitable and sustainable national spatial framework to guide the overall development of the country towards achieving developed and high-income nation status by 2020". Additionally, the goal formulation is directed towards finding solutions for perceived issues pertaining climate change, sustainable urban structure, biodiversity, food security and green technology; and to support the National Key Results Areas by overcoming all the challenges like crime reduction, education, low income households, while emphasizing on the inclusive development through physical relationship between urban and rural areas.
NPP-2 sets out a development strategy for Peninsular Malaysia known as "Concentrated Decentralisation" where it is estimated that by the year of 2020, urbanization in Peninsular Malaysia is 75% and 70% of urban population will be in four major conurbations known as Kuala Lumpur Conurbation, George Town Conurbation, Kuantan Conurbation and Johor Bahru Conurbation. The key strategies are to concentrate the nation's scarce resources to a few priority urban areas with the greatest growth potential for job creation along the key economic corridors (while protecting the rural areas and natural environment), to largely focus on the future new urban development and regeneration in selected urban conurbations and key urban areas (which indirectly generate spin-offs to catalyze the development of surrounding areas in the regions), and eventually, to support the growth through the implementation of high-impact flagship projects or key infrastructure facilities.
Metropolitan Planning System
Rapid urbanization of Kuala Lumpur is inevitably the result of its top-down approach in planning system with market-oriented policies to attract foreign investment along with the concentration of economic activities within an area named 'Golden Triangle'. The top-down strategy was initiated with (1) Vision 2020, (2) country's Five Year National Development Plan and (3) the federal government's nationwide spatial framework (NPP), complemented by the regional administrative policies envisioned in the (4) National Urbanisation Policy (NUP) which promotes sustainable urban development of the city. In terms of uniformity in laws and planning at lower level, to formulate structure and local plan; the city administration (City Hall of Kuala Lumpur) has joined forces with Federal Department of Town and Country Planning by creating blueprints that outline goals, strategies and policies from NPP and NUP to be incorporated in Kuala Lumpur Structure Plan 2020 and Draft Kuala Lumpur City Plan 2020. The Kuala Lumpur Structure Plan is a statutory plan prepared under the Federal Territory (Planning) Act 1982. The organ drafting the plan is the City Hall of Kuala Lumpur. The duration of the current plan is 20 years, from 2000 to 2020 and it contains visions, goals, policies, and proposal for the city.
Section 16B of Act 172 has also provided the local planning authority to prepare special area plan for any part of its areas. Overall, special area plan has the same effect like local plan except that it contains proposals for special and detailed treatment by development, redevelopment, improvement, conservation or management practice and the nature of the treatment proposed.
Although swift modernization of information technology could easily have allowed decentralization of economic growth and development away from Kuala Lumpur's city centre, the zoning in Draft Kuala Lumpur City Plan 2020 as main mechanism for development guidance has indicated that city planners tend to focus the economic activities in inner city areas with more spaces for mixed-development patterns aiming to encourage urban liveability. Additionally, it also aims to promote in-migration into central Kuala Lumpur as a measure to alleviate traffic congestion caused by daily travel.
FigureExisting Land Use Map In 2005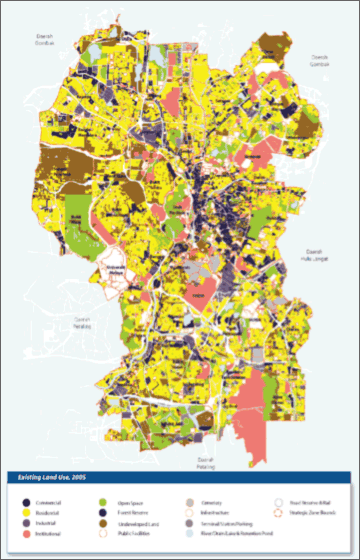 Source: Draft Kuala Lumpur City Plan 2020
FigureProposed Land Use Map In 2020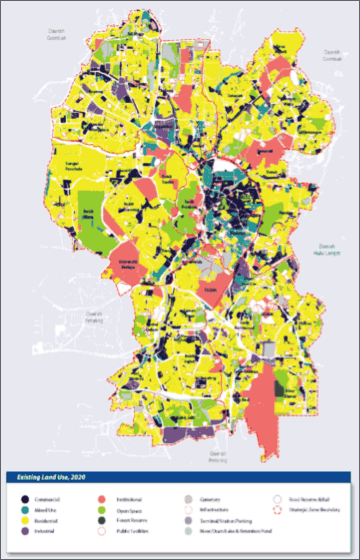 Source: Draft Kuala Lumpur City Plan 2020
The fast pace of industrialization has led to the urban expansion of the capital city of Kuala Lumpur which is also known as Klang Valley (Kuala Lumpur Metropolitan Area). Due to the significant development of Kuala Lumpur-Putrajaya corridor, the federal government administrative functions has been gradually transferred to Putrajaya which made Kuala Lumpur's principal functions to be redefined into a centre for commerce, consumption and finance. The core urban functions remained pre-eminent within the city centre.
Greater Kuala Lumpur (refer Figure) is a term being used in the National Key Economic Areas (NKEA) to describe Kuala Lumpur Metropolitan Area or Klang Valley by referring to an area that is covered by 10 municipalities, each governed by the local authorities namely:
FigureMap Showing The Boundary of Greater Kuala Lumpur By Local Authorities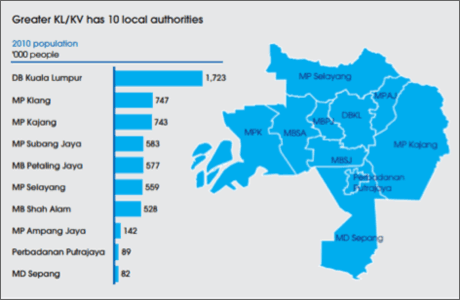 Source: Economic Transformation Programme, 2010
i.

Kuala Lumpur City Hall (DBKL), Federal Territory of Kuala Lumpur

ii.

Putrajaya Corporation, Federal Territory of Putrajaya

iii.

Shah Alam City Council (MBSA), State of Selangor

iv.

Petaling Jaya City Council (MBPJ), State of Selangor

v.

Klang Municipal Council (MPK), State of Selangor

vi.

Kajang Municipal Council (MPKj) , State of Selangor

vii.

Subang Jaya Municipal Council (MPSJ) , State of Selangor

viii.

Selayang Municipal Council (MPS) , State of Selangor

ix.

Ampang Jaya Municipal Council (MPAJ) , Federal Territory of Kuala Lumpur

x.

Sepang Municipal Council (MDS), State of Selangor
The size of Greater Kuala Lumpur is 2,793.27 sq.km and it is smaller than the size of Kuala Lumpur National Conurbation that has been defined under the latest review of the National Physical Plan. Greater Kuala Lumpur is focusing on the highest density economic agglomerations within the Conurbation that includes important sites such as the Kuala Lumpur International Airport. In 2010, the population of Greater Kuala Lumpur is approximately 6 million, and it contributes about RM263 billion to the nation's GNI. This translates to 20 percent of the national population contributing 30 percent of the nation's GNI, proving that Greater Kuala Lumpur is indeed the engine of the nation's economic growth and hence designated as a NKEA.

Rapidly Growing Urban Areas
Looking at the picture of Malaysia, the needs to set up a Regional Planning Committee (RPC) for a region in area consisting of two or more states within the country is required according to a provision in Section 6A (Part IIA) of the Town and Country Planning Act 1976 (Act 172). As stated in Sub-Section 6A(5b), Act 172, the Committee plays a role and holds a responsibility to arrange a comprehensive Regional Plan in the process of regulation and management towards the development of a region. Generally, the definition of region is an area covering two or more administrative boundaries. On the other hand, regional plan refers to a document containing spatial development strategies for a more balanced and fair distribution of growth and dispersal of development as well as to achieve an integrated and efficient infrastructural framework. It is also a tool for managing the growth and development of city regions or conurbations. Based in the 3rd Thrust, Chapter 17 of the Ninth Malaysia Plan, the main aim of regional planning is to achieve a more balanced inter-regional development. In Peninsular Malaysia, currently there are three planning regions namely East Coast Economic Region (ECER), Northern Corridor Economic Region (NCER) and Iskandar Malaysia (IM) in Southern Johor.
Economic Regions
The economic regions were initiated under the Ninth Malaysia Plan to bridge development imbalance throughout the country by focusing on economic growth through public-private partnerships (PPP). The establishment of directions, policies and strategies in relation to the economic regions have been established through three Acts of Parliament, namely, Iskandar Regional Development Authority Act 2007 (Act 664), Northern Corridor Implementation Authority Act 2008 (Act 687) and East Coast Economic Region Development Council Act 2008 (Act 688). The statutory bodies responsible with the regional economic development are Iskandar Regional Development Authority (IRDA), Northern Corridor Implementation Authority (NCIA) and East Coast Economic Region Development Council (ECERDC).
TableEconomic Regions In Peninsular Malaysia
Regional Plan
States Involved
Development Plan
Location Plan
East Coast Economic Region

Pahang
Terengganu
Kelantan
The district of Mersing in Johor

The construction of the main trunkroad of Simpang Pulai-Gua Musang-Kuala Terengganu.
A new University in Kelantan and Terengganu.
Upgrading of Kuala Terengganu Airport.
A food manufacturing Park project, oil palm based industries and an integrated Halal Hub in Pahang.

Northern Corridor Economic Region

Perlis
Kedah
Pulau Pinang
Northern Perak

Trans-Eastern Kedah Hinterland Highway project in Kedah.
Extension of the existing Kulim High Technology Park in Kedah.
The construction of the Outer Ring Road and the Second Bridge in Pulau Pinang.
An integrated Halal Hub and Food Manufacturing Park in Kedah.
An integrated Halal Hub in Perlis.
The construction of a National Food Terminal Complex in Ipoh, Perak.

Iskandar Malaysia

Southern part of Johor - from the Mukim of Serkat in the west, to Pasir Gudang in the east, from Kulai in the north to Johor Bahru in the south.

The development of Nusajaya Township as the new administrative center of Johor.
The development of an education hub, a center for creative industry and several tourist attractions.
The development of the Johor Logistics Hub, consisting of 2 major international-class ports in Tg. Pelepas and Pasir Gudang and an international airport in Senai.
Extension to the existing runway at Senai International Airport , making Senai an integrated logistic hub.
References

Abd. Rahim Md. Yunus (2001) Amalan Perancangan. Skudai: Universiti Teknologi Malaysia.
Bunnell, T., Barter, P.A. and Morshidi, S. (2002) City Profile. Kuala Lumpur Metropolitan Area: A Globalizing City-Region. Cities, 19, pp. 357-370.
Department of Statistics Malaysia (2010) Malaysia @ a Glance. Available at http://www.statistics.gov.my/portal/index.php?option=com_content&view=article&id=472&Itemid=96&lang=en. Accessed on 15 February 2015..
Economic Planning Unit (2010) Tenth Malaysia Plan. Kuala Lumpur: Economic Planning Unit.
Economic Planning Unit (2013) The Malaysian Economy in Figures 2013. Available at http://www.epu.gov.my/documents/10124/2257e64f-b08d-41b7-bed0-b6e6498c38a3. Accessed on 15 February 2015.
Economic Transformation Programme (2010) Chapter 5: Developing Greater Kuala Lumpur/Klang Valley as an Engine of Economic Growth. Available at http://etp.pemandu.gov.my/upload/etp_handbook_chapter_5_greater_klkv_20120625.pdf. Accessed on 15 February 2015.
Federal Department of Town and Country Planning (2010) National Physical Plan 2. Available at http://www.kpkt.gov.my/kpkt_2013/fileupload/dasar/NPP.pdf Accessed on 15 February 2015..
Hamnett, S. and Forbes, D. (2011) Planning Asian Cities: Risks and Resilience. Oxfordshire: Routledge.
Kuala Lumpur City Hall (2008) Draft Kuala Lumpur City Plan 2020. Kuala Lumpur: Kuala Lumpur City Hall.
Kuala Lumpur City Hall (2004) Kuala Lumpur Structure Plan 2020. Kuala Lumpur: Kuala Lumpur City Hall.
(Information Updated: March 2015)