Country Profile
The French Republic comprises metropolitan France as well as the country's territories overseas (the five overseas departments of Guadeloupe, Martinique, French Guiana in the Caribbean, Réunion in the Indian Ocean and Mayotte, six overseas collectivities). France is the largest in area of the EU member states, at about 1.5 times the size of Japan, and is home to Mont Blanc (4,810 m), the highest mountain in Europe. France has a population of about 65 million, the second largest in the EU, behind Germany. One noticeable trend in recent years is France's high fertility rate (total fertility rate 2.00; 2009, 1.74; 1995).
TableFrance fast facts
Country name
French Republic (République française)
Surface area
544,000 km²
(French mainland; French, national, statistical Economic Research Institute)
Population
66.33 million
(2016: Tentative; French, national, statistical Economic Research Institute)
Population density
122/km²
Percentage of urban population
79.5% (2015)
GDP
USD 2,865 billion (2011)
USD 2,683 billion (2012)
USD 2,811 billion (2013)
USD 2,834 billion (2014)
USD 2,421 billion (2015) (IMF)
GDP per capita
USD 45,430 (2011), USD 42,333 (2012)
USD 44,132 (2013), USD 44,291 (2014)
USD 37,675 (2015) (IMF)
Percentage of employment by industry
agriculture: 1.7%
industry: 19.4%
services: 78.8% (2016 eat.)
Economic growth rate
2.08% (2011), 0.18% (2012), 0.66% (2013)
0.18% (2014), 1.14% (2015) (IMF)
(Information Updated: March 2017)
FigureMap of France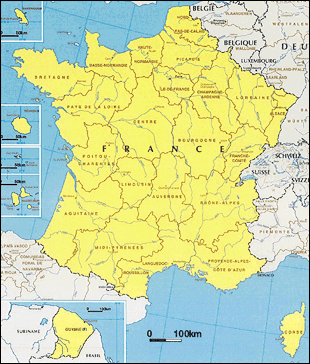 Local government
Number
Notes
Regions
(Région)
27
Metropolitan: 22
Overseas: 5
Departments
(Département)
101
Metropolitan: 96
Overseas: 5
Communes
(Commune)
36,680
Metropolitan: 36,568
Overseas: 112
Local Governments
The sub-national government system in France consists of three tiers: regions (région), departments (département) and communes (commune; there is no distinction among cities, towns and villages). The system is characterized by the large number of small communes.
Progress in Decentralization
As a result of progress in decentralization, the regions, together with the state, have come to play a large role in national spatial improvement and development. Specifically, a region become a local autonomous body with its own council pursuant to the Decentralization Act of 1982, and executive powers were transferred from the governors designated by the state to the departments and regional council chairmen. Regions were positioned as local autonomous bodies like departments and communes by the Constitution Amendment Act of 2003.
Development of Inter-Communal Administration System
Due to the large number of small communes, various inter-communal administration systems have developed in France.
Public establishment for inter-communal cooperation can be classified mainly into the association type and the union type which most of them are the union type. An association type administration system operates on contributions from the individual communes to perform a single or multiple administrative duties transferred from the communes to the association. A union type has its own financial resources, as well as taxation rights, and can further be classified roughly into four (communauté de communes, communauté d'agglomération,communauté urbaine, métropole) in accordance with its size of population and other factors. As of January 1, 2011, inter-communal systems number 2,599, cover 95% of the communes, and account for 91% of the population. Each community has authority in establishing Territorial Coherence Scheme (SCOT: Schémas de cohérence territoriale) and in the field of economic development.
Under the decentralization reform of Hollande administration, Lyon Metropole (merger of parts of Lyon Metropolitan Community and Rhône Department; established on January 1, 2015), Aix-Marseille-Provence Metropole (merger of six wide-area administrative body in Marseille; scheduled to be established on January 1, 2016) and Grand Paris Metropole (mainly consist of areas of the City of Paris, Seine-Saint-Denis Department, Hauts-de-Seine Department and Val-de-Marne Department; scheduled to be established on January 1, 2016) are going to be newly formulated.
Also, to reform multitiered system of local government, discussion has been made on merger of Regions, reorganization of inter-communal wide-area administrative body (according to daily living area) and continuance/abolishment of departments.
Major Authorities Relating to Spatial Policy

France has been promoting measures for the decentralization of Paris, including industrial decentralization, since the 1950. With the establishment of the Agency for Regional Development and Regional Action (DATAR); the current Interministerial Agency for Spatial Planning and Regional Attractiveness (DATAR)) in 1963, development of infrastructure and various other support measures were implemented within the framework of five-year economic plans. The progress in decentralization since the 1980s led to the strengthening of the roles played by the regions, resulting in the promotion of spatial improvement and development through multi-tiered collaboration among the state, regions, local autonomous bodies, and inter-communal organs, taking the EU's principles and philosophy into consideration as well. France has not devised an economic plan since its eleventh economic plan in the 1990s, which was never approved.
Major Present-Day Tools Relating to Spatial Planning
The Spatial Planning and Development Act (commonly referred to as the Pasqua Act) legislated in 1995 following active discussion on spatial policy in the 1990s, together with the Spatial Planning and Sustainable Development Act (commonly referred to as the Voynet Act) legislated in 1999 to amend the foregoing, form the framework for the current spatial policy. Also in 2010 Grenelle 2 Act was legislated which incorporated the aspect of sustainable development.
Regional Spatial Development System

The national government develops national-level sector plans and Public Service Plans (SSC) as guidelines (higher education and research, culture, health and hygiene, information and communication, passenger and cargo transport, energy, natural and agricultural space, sports (as of February 2009)).
Meanwhile, the regions devise Regional Spatial Planning and Development Schemes (SRADT; SRADDT as from Grenelle 2 Act) as locally oriented medium-term plans. The regions are also able to formulate regional economic development plans. The Spatial Planning Directives (DTA; DTADD as from Grenelle 2 Act), which set forth the state's basic policies concerning a specific territory, are also locally-oriented plans that relate to both regional spatial improvement and municipal-level urban planning.
State-Region Planning Contracts

These are detailed documents setting forth the agreement between the state and the region (autonomous body) on action programs and finances for spatial arrangement and development in connection with respective strategic priorities. It provides an effective means for collaborative operations by the state and local governments that may be implemented in various forms. Adopted as a regional planning technique pursuant to the Law of July 29, 1982, the practice has been increasing in importance since. At the same time, such issues as duplications and delay in operations have also been pointed out. The contracts are made on a seven-year cycle in keeping with the duration of the EU's regional policies.
The planning contract 2007-2013 is the fifth of its kind. The national budget therefore is approximately 12.7 billion euro. The local budget varies by region.
Currently, the sixth planning contract for 2014-2020 period is under the conclusion process. Five themes are presented as its content; improvement of education, research and innovation, promotion of development in broadband environment, innovation in the fields and of industry with a future, various mobility and changeover to eco-friendly energy.
Figure:Regional Spatial Projects of Region of Île-de-France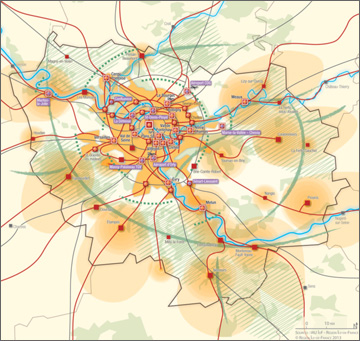 Source:Conseil régional d'Île-de-France (2013) "Schéma directeur de la région Île-de-France"
Spatial Planning in the Capital Region
Spatial Planning in the capital region was dealt by the Region of Île-de-France in coordination with the national government, based on SDRIF covering Paris which was established in 1994. Region of Île-de-France prepared a new SDRIF in 2008 however it didn't meet with Council of State's approval. Meanwhile the national government legislated Act of Grand Paris which includes the intention of national government to guide development of the area through Public Corporation of Grand Paris (Société du Grand Paris) and Paris-Saclay Public Corporation (Établissement Public Paris Saclay).
Act of Grand Paris states to develop housing and science technology centres mainly through development of public transport network by making use of State-region project contracts (Contrats de Projets État-Région), and it is planned to create ten development cores and to bring interaction between them. Region of Îe-de-France is preparing a plan based on SDRIF formulated in 2008, mainly in the field of public transport development, of which the drafted SDRIF had been revised based on the agreement of the president and governor.
The new SDRIF was approved by the Regional Assembly in October 2013, then by Council of State in December 2013.
Regional Policies
Principal measures for strengthening regional competitiveness include integral support for companies and the like through the improvement of centers of competitiveness (71 centers as of May 2010; budget of approximately 1.5 billion euro in three years allocated mainly by state and government agencies).
Measures that mostly involve rural areas include a mechanism where communes, inter-communal administrations, and other organs form of 'Pays' (regional scale living area) to address local issues with the contractual support of the state and the region. (370 Pays have been established or are in planning as of January 2011, involving 47% of the population).
Financial means of regional support include various tax measures, in addition to the Spatial Improvement Subsidy (PAT) established in 1982 by consolidating the different subsidies.
Support from the EU Structural Fund is also used in combination with domestic support measures. Subsequent to the 2000-2006 period, France has not had any convergence regions with a per capita national income of less than 75% of the EU average, except overseas.
(Information Updated: March 2014)