Country Profile
India is a major nation with global importance. With approximately 3,287,000 km² of land area, it ranked seventh in the world and second most populous nation after China. The present population is 1.2 billion (Census 2011). India's origin dates back to the prehistoric times, when it is best represented by the Indus valley civilization during the second century B.C. The region was home to numerous empires and sultanates, including the Magadha Kingdom (Mauryan Empire, Gupta Empire) and the Mughal Empire. It endured nearly 200 years of British colonial rule; which culminated into independence in 1947 and subsequent partition into India, East Pakistan and West Pakistan.
Immediately after independence, the country opted for socialist approach in its social and economic growth. It was largely agrarian economy with state control over major industry and economic networking. Aspiration for transition from deprived to developed economy has been difficult to come by. Economic situation began to deteriorate and in the eighties and nineties the situation became aggravated. In early ninety, India experience huge crisis in its balance of payment. The current account situation was so miserable that India could only finance few weeks of import. In the awake of the emerging crisis, India transformed into liberal economy and pressed forward with economic reform measures. Key components of liberalization were the relaxation of regulations on industrial licenses, active utilization of foreign capital, reform of trading systems, depreciation of exchange rates, and transition to the floating exchange rate policy. As a result, India achieved an economic growth rate of more than 7% for three consecutive years from FY1994 through FY1996, building the foundation for its rapid economic growth in subsequent years.
Since economic liberalization, the two decadal journeys have created lots of recognition for India. Although the achievement is much limited than China but India too has created its own niche of development. Democracy, growth and equity are very kernel to India's development. It is a union of states and union territories which enjoys economic and political freedom. Recently, 29th state of India, Telangana, was established on June 2, 2014. The new state was created by separating Andhra Pradesh (Administrative system on the figure below is that before the separation of Telangana State).
Figure 1State-level Administrative Divisions of India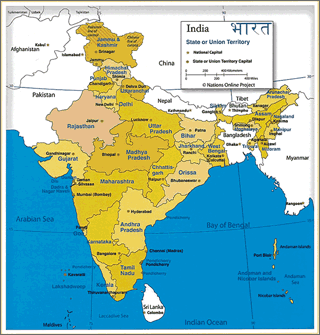 Source: http://www.nationsonline.org/oneworld/india_map.html
Table 1India fast facts
Country name
Republic of India
Surface area
3,287,469 km²
(Data of Indian government, The disputed territory with Pakistan and China is included. 2011: National census)
Population
1,210.57 million (2011: National census)
Population density
370/km²
Percentage of urban population
32.7% (2015)
GDP (nominal)
USD 2,069.9 billion (2014: World Bank)
GDP per capita (Nominal)
USD 1,596 (2014: World Bank)
Percentage of employment by industry
aguriculture: 16.1%
industry: 29.5%
services: 54.4% (2015 est.)
GDP Growth rate
7.2% (2014: Indian government)
(Information Updated: March 2017)
Local Governments
Figure 2Administrative Hierarchy According to Indian Constitution
Source: Local Government in India, Council of Local Authorities for International Relations, 2007
The Indian Constitution provides three tiers administrative levels; specifically the Union Government, the State Governments, and the Local Governments (urban and rural). 73rd and 74th Constitutional amendment act have created the third tier of local governance in urban and rural areas.
The country currently has 29 states and seven union territories. The state organizations and institutions are divided by districts and blocks. The responsibilities of the different levels of government are also explained in detail by the constitution. The Seventh Schedule of the constitution (Article 246) of the constitution has three lists (I) Union List (II) State List and (III) Concurrent List (Jurisdiction of both Central and State government)
The Union Government has jurisdiction over national matters such as national defense, foreign relations & diplomacy, communications, economy-finance-tax, and essential infrastructure (railways, national highways, airports, electricity, main ports, etc.).
State Government is a Constitutional authority directly elected by the people has its own administrative jurisdiction. State Governments maintains governance and series within its land. The responsibility of State Government includes legal order (public safety, police), public sanitation (water supply, sewer systems), health, legislative authority regarding agriculture, forestry, and fishery, transportation infrastructure development (state highways, ports other than main ports), and the development of agricultural, forestry, and fishery infrastructures (irrigation, fishing ports).
The Eleventh and Twelfth schedule (Article 243G and 243W) of the constitution explain the jurisdiction of rural Governments (called Panchayats) and Urban Governments. The jurisdiction of rural Government includes agriculture, agricultural extension, rural housing and poverty alleviation programmes; while the jurisdiction of urban Governments includes urban planning including town planning, regulation of land use and construction of buildings, water supply, sanitation and solid waste management, slum improvement and upgradation and urban poverty alleviation etc.
Major Authorities Relating to Spatial Policy

Overview of Five-Year Planning System of the Past
National level plans included the Five Year Plan stipulated in the Constitution. The Plan sets forth national strategic vision and goals, and projects for a broad range of areas including the economy, financial administration, finance and banking, employment, education, social security, environment, industry, agriculture, transportation, urban development, and energy.
India was promoting the Twelfth Five Year Plan (2012.4 - 2017.3) which assumed a high growth rate (targeted rate of 8.2%) to ensure creation of employment and achievement of fiscal soundness of the government. Investment amounting up to a trillion dollar for infrastructure was planned during this period. Infrastructure is considered as the key to enhance the country's inclusiveness of growth. Infrastructure sector such as railways, roads and ports are envisioned primal necessity to ensure sustainable economic growth.
The Planning Commission (chaired by the Prime Minister) prepared the plan by coordinating and consolidating the plans proposed by the central agencies and ministries, as well as the state Governments.
A working group comprising representatives from the agencies and ministries concerned, academic experts, and representatives from state governments were established for each sector to ensure collaboration between the Union Government and the state governments in all sectors.
The Planning Commission monitored the achievement status for the previous fiscal year to clarify the issues that need to be addressed in order to accomplish the planned goals and develop an annual plan based thereon. The allocation of budgets to the Union Government and the state governments was dependent on the annual plans.
Planning commission and 12th Five Year Plan was discontinued in January 2015.
Emergence of a New Institution: NITI Commission (NITI Aayog)
On 1st January 2015 the government replaced Planning Commission with a new institution named National Institution for Transforming India Commission (shortened NITI Commission). The pressing idea for the transformation is to emphasize "States of the Union", which does not want to be mere appendages of the centre and seek a decisive say in determining the architecture of growth and development. This aspiration of state requires a diminished role of central planning.
Table 2Composition of NITI Commission
Chairperson
Prime Minister
Governing Council
Chief Ministers of States and Lt. Governors of Union Territories
Regional Councils
Formed on need basis, comprising the members written above
Part time members
Maximum 2, rotational from relevant institutions
Ex Officio members
Maximum 4 from council of ministers, nominated by Prime Minister Special invitees
The roles of this institution are following

Fostering Cooperative Federalism, active involvement of states
Formulation of plans at Village-level aggregation at higher levels
Feedbacks for Innovative improvements, Partnerships with Thick-tanks, Resolution of inter-sectoral and inter-departmental issues, state of the art resource centre.
Source: Cabinet Resolution by Government of India, January 2015
Although the institution is very new, and the final planning framework and role is yet to emerge.
National, State and Local-Level Spatial Planning Systems
Table 3Major Spatial and Regional Improvement Plans
| Plan | Planning Body |
| --- | --- |
| State five year plans | State planning boards |
| Regional Plan 2021 | National Capital Region Planning department |
| Delhi Master Plan 2021 | Delhi Development Authority (DDA) |
Urban planning and development administration are commenced under the state legislative background. Local Government or urban local body (ULB) implements the urban development strategies. ULB is the third tier of governance, directly elected by the people. Planning and development for major cities and urban regions are done by urban/metropolitan/regional development authorities. These authorities are functionaries' institutions under state government.
At the Union Government level, the Planning Commission of the Government of India and the Ministry of Urban Development bear responsibilities of urban planning, development, and technical guidance.
On the state government level, urban planning and development administration are administered by the State Town Planning Act and the relevant legal framework of each state. Presently, all states have ministries responsible for urban planning, urban development, housing and governance.
On the local level, the Planning and development department is the body responsible for devising various plans in large cities, as well as for issuing development permits and implementing development among other things. The department is established by State Town Planning Act or individual planning and development department act.
Overview of Capital Region Planning System
Figure 3Capital Region Planning Map (Land Use)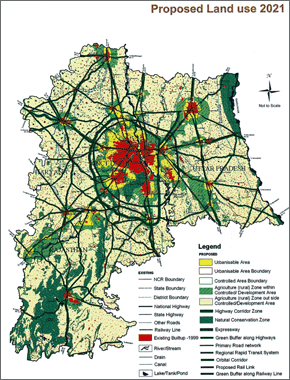 Source: Regional Plan 2021, National Capital Region Planning Board, 2005
NCR (National Capital Region) Planning Board was established with the consent and participation of the states of Haryana, Rajasthan, Delhi, and Uttar Pradesh; under National Capital Region Planning Board Act enacted in 1985 (national authority under the Ministry of Urban Development).
In addition to formulating the Regional Plan 2021 in 2005, the National Capital Region Planning Board formulated the Transport Plan 2032 in 2010 to supplement the Regional Plan 2021.
The objective and the goal of the Regional Plan 2021 are to take advantage of the effect of the economic development of Delhi to promote regional growth and balanced intra-regional development through the creation of efficient networks (upgrading of infrastructure, development of a rational land utilization pattern, improvement of environment, and realization of quality of life) within five city centers and one district center.
Delhi Master Plan 2021 has been devised for Delhi capital territories by the Delhi Development Authority (DDA). The development plan links with the vision of Regional Plan 2021. The Master Plan is prepared by DDA as an agent of the Union Government pursuant to the Delhi Development Act (1957).
The goals of the Delhi Master Plan 2021 are to (i) make Delhi a world class city, (ii) conserve the environment and preserve historical legacies, (iii) plan and develop from a regional (broad) perspective, (iv) achieve a high standard of living and quality of life that are sustainable, (v) take an inclusive approach from the viewpoint of the poor, and (vi) establish a humane city.

Amendment of Land Expropriation Act
The biggest barrier for the companies advancing into India is acquisition of plant site. Frequent occurrence of land conflict troubled large companies such as the largest steel company in the world, Arcelor Mittal from Europe. In January 2014, Government of India amended Land Acquisition Act, enacted 120 years ago upon the government of British Empire.
The new act (Land acquisition rehabilitation and resettlement act 2013) firmly intends to protect residents and landowners in cases of land expropriation by the government. The price paid to landowners and others in accordance with expropriation had been "equivalent amount to the land's market value". This was amended to "twice the amount" in urban areas and "four times the amount" in rural areas where conflict happens to occur frequently. Alternative land for living was required to be secured as well. Also impact study of surrounding areas was added to the requirement when expropriating the land.
During the earlier act, there had been situation where the company was charged extra payment when land price increased after the expropriation (the case of Maruti Suzuki India Limited, the leading car company in India at its Manesar plant located at the north of State of Haryana). Government approved land prices are much lower in India than the market process. The reason for such pricing might be due to tax and other reasons. Differential land price is one of the major reason behind conflicts is the wide difference in price paid by state government and market price.
The new act was said to increase land acquiring cost for the companies and prolong negotiations to obtain the land or contrarily it may raise the possibility to reduce the risk of land conflicts. (Nihon Keizai Shimbun (Japanese newspaper); February 14, 2014)
In December 2014, Government of India issued an ordinance to amend certain provisions of the act. The sectors such as National Security and Defense, Rural Infrastructure and Rural Electrification, Affordable Housing & Housing for Poor, Industrial Corridors and Infrastructure and Social Infrastructure projects including projects under Public Private Partnership (PPP), where the ownership of land continue to vest with the government were exempted from the need of consent of 80 per cent land-owners. The minister concerned said that the ordinance on land acquisition aims to facilitate industrial development. The amendment tried to achieve a balance, where higher compensation will continue. At the same time, procedural rigors will be loosened or eased. (The Wall Street Journal, India Realtime, December 30 2014).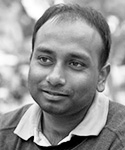 Information Update:
March 11, 2016
Contributor:
Arindam Biswas, Ph.D
Assistant Professor, Department of Architecture & Planning, Indian Institute of Technology Roorkee